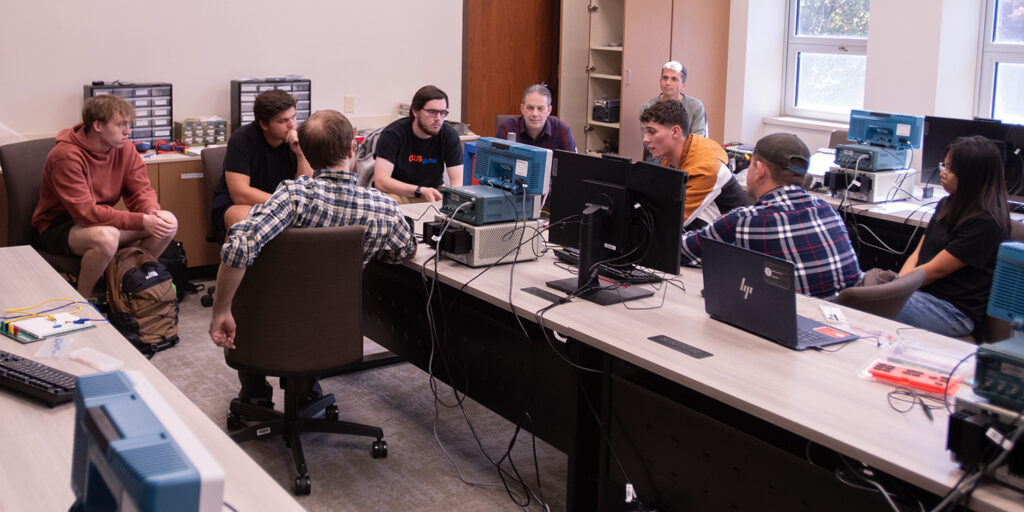 by Larry Bartel for Hesston College and available here
In the realm of academia, innovation is bred by collaboration. The Hesston College School of Engineering recently had the opportunity to witness this first hand as they collaborated on a project with the engineering department at Eastern Mennonite University. This partnership was made possible by a grant from the Marpeck Fund, an entity meant to encourage relationships between Mennonite institutions.
During spring break of 2023, a group of Hesston College engineering faculty, program director Johann Reimer, Joel Krehbiel and Chris Fadden along with engineering students Rozario Zogu, Jessica Raharjo and Rrok Topalli traveled to the EMU campus in Harrisonburg, Va., for the first phase of this collaboration. The Hesston group was asked to review two projects that EMU students had created in one of their design courses and choose one to work to improve. The project they chose was a flip board made up of multiple three-sided triangular prisms. The group from Hesston also had the chance for some sightseeing as they hiked part of the Appalachian Trail and explored Washington, D.C.
"Eastern Mennonite University and Hesston College have a long history of collaboration in various areas," remarked Reimer. "I am so excited that we were able to forge ahead with a totally new engineering-related collaboration that provided real benefits for faculty and students alike."