written by Justin DeWeese, originally published by Goshen College and available here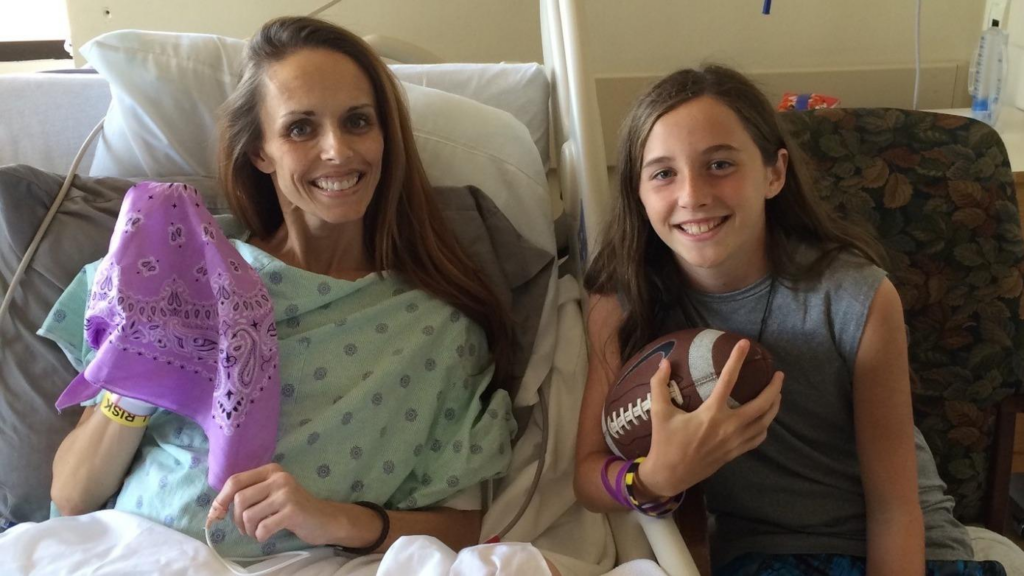 Tattooed on Zion Neat's right arm is the phrase, "Let your light SHINE." "SHINE" is capitalized and in purple, with the bottom of the "S" looping back towards the middle of the letter. The "y" in "your" and the "g" in "light" also have distinctive curves. A couple of letters are slightly crooked. That's because it's in the handwriting of Neat's mother, Wendy, who passed away on August 23, 2014. The Goshen College women's basketball star has been battle-tested in many ways throughout her life, but she has kept her faith and relationship with God at the forefront throughout. Her trust in God makes perfect sense when you hear her talk about her mother.
The Epitome of the Christian Woman
Wendy Neat was up every morning at 6:00 am with her coffee, a devotional, and listening to worship music. Zion recalls how she loved people exactly as they were and always went out of her way to make other people feel seen.
"Every Mother's Day, she sent hundreds of texts to people, whether they were currently mothers or maybe they had a miscarriage," said Neat. "She would still text those people and make them feel seen that day." Doing good came to be expected of Wendy Neat – if a neighbor needed help, she was there. And as a personal trainer, she helped people with their fitness goals.
The family moved 14 times before Zion turned eight since her father hired for new branches of a jeweler. Eventually, the Neats settled in Texas, where Wendy opened a coffee shop. Zion worked there starting at age ten. Even throughout all the moves, the family still had some control of their situation. But soon, there would be a moment they were unable to govern.
After experiencing back pain, the ordinarily super-healthy Wendy eventually went to the doctor. Routine scans showed some internal bleeding. Not that big of a deal until they discovered tumors all over her internal organs. They were surprised that she had made it this long and gave her three weeks to live at most. While it was medically defined as metastatic sarcoma, the doctors had never seen anything like it. Incurable.
One moment in her mother's battle stood out from the rest for Zion. Her mom broke down and cried, saying, "I don't want to die. I don't want to leave you guys because I don't think I've taught you everything I need to teach you yet." But Zion felt that she had. "In the way that she lived her life, she'd taught me enough," Neat shared. "I can live on those principles for the rest of my life."
Wendy Neat exceeded expectations and fought for three months. She lived every day like it was her last and figured you might as well make other peoples' days. Her death was the day before Zion was set to start seventh grade.
You Don't Have a Choice
Through the transitions, Neat has always seen people as the driving factor in maintaining her faith. People would tell her, "Zion, I don't know how you do it. I could never." To which she responds, "You don't have a choice when something like that happens. I just had to keep going every day, so I might as well make the best of it, use what I learned, and try to impact people a little bit of the way my mom did."
By May of her senior year in high school, Neat had signed and enrolled to play basketball at Southern Arkansas. But when the husband and wife assistant coaches moved to Columbia International University, Neat went along with them. She was in an awkward position that first year as the only freshman but also a team captain among a team with many juniors and seniors. It made sense on paper – Neat was active in her faith, a leading scorer, and had a 4.0 GPA. But she was a freshman. The first half of the season was spent convincing people that it wasn't the worst idea in the world. She couldn't act new when leading a group of mainly upperclassmen. To add to the newness, the summer after her first year, she came out as gay.
"How would my mom feel?" was one of the hold-ups that prevented Neat from coming out. But a year ago, she was comforted by the thoughts of her mom's best friend. "Zion, she would have loved you," she had said. "And she would have done it regardless because she always did." Some friends even told her that they thought she even knew when she was still living.
But many people told her that she could not be gay and a Christian. Neat believed it as well. "I think a lot of the reason people turn away from Christianity or just faith, in general, is because people are telling them that a fundamental part of who they are and something they believe that is unchanging is keeping them from heaven," Neat said. "To hear that something about yourself like that is something that can keep you from heaven or God's love is just so damaging."
While exclusion pushed Neat away from religion a bit, it didn't necessarily drive her away from her relationship with God. She has a simple answer for those who have told her she can't be gay and a Christian. "I'm doing it! I'm doing it right now! And I feel Christ every single day. I talk to Him daily, and nothing can separate you from His love."
"I feel Christ every single day. I talk to Him daily, and nothing can separate you from His love." – Zion Neat
Leaps and Bounds
Neat was a captain during her sophomore year at CIU as well and remained the team's top scorer. But she was still at a school where she couldn't be open as an LGBTQ+ Christian in the way she wanted. As Neat sought out a better fit, Goshen's head women's basketball coach Stephanie Miller reached out immediately after reviewing her email and video. "After one phone call, Zion and I knew she would be a perfect fit for each other and the GC community," Miller said. "I sometimes think back on those moments and am in awe of how God works in helping guide us in our journeys." Goshen was the environment where Neat would fit best.
Neat joined the Maple Leafs and made an impact as the "new kid" despite the team underperforming by their standards. The junior was named Honorable Mention All-Crossroads League as Goshen's leading scorer, averaging 13.6 points per game. She was seventh in the conference in free throw percentage (81.3%) and seventh in points per 40 minutes (19.9). Neat also led the team in minutes per game, field goals made, games started, three-pointers made, free throws made, and free throw percentage. On December 10, she scored her 1,000th collegiate point against Mount Vernon Nazarene and now sits at 1,247. "Zion has been a joy to work with every day, and I am very proud of her and how she positively impacts every room she enters," Miller shared. "She is a light!"
While being successful in Ruth Gunden Gymnasium, Neat has also recognized, time and time again, that a lot of things are just bigger than basketball. That sentiment still rang true when she learned about the story of Hagen Knepp.
Knepp was a first-year men's basketball player at Grace College this past season, a Crossroads League opponent of the Maple Leafs. But during the preseason, he was diagnosed with a rare form of appendix cancer – most common among men between 50 and 55 – impacting one or two people per million annually. Neat understood what it was like to have a loved one battle a rare form of cancer. She also knew of the power that sports have to unite people for a common cause.
Her childhood friend, Myles, was on the boy's basketball team at their high school, Vista Ridge High School in Cedar Park, Texas. Myles died in a car wreck, and the community united and supported his family during a home basketball game. "I don't even remember who won the game," Neat laughed. That event helped inspire what became Fight Together Night as the Maple Leafs and Lancers joined forces to support Hagen Knepp.
Neat shared the idea with Miller, and the two pulled all the strings to make the event happen with short notice. Grace already had a Hoops for Hope night for Knepp, but Fight Together Night added to it. The Goshen women played at Grace while the men hosted them the same night. Both Goshen teams wore t-shirts while warming up and on the bench with an array of colors representing the types of cancer that have affected their lives. They also directed fans to donate to his GoFundMe page.
"I wanted to see if we could do something that showed his parents that their son is a part of something bigger," said Neat. "That he's got people pulling for him and fighting for him that aren't just his teammates and Grace College students. That felt like it would be impactful for me, and including the women's side was a bonus."
Fight Together Night was just one example of how Neat's faith has grown "leaps and bounds" since arriving in the Maple City as she serves others and loves everyone she encounters in a Christlike way. "I didn't think that I had so much more to grow in until I got here, and I met these people that really defined the concept of relationship over religion," she pointed out. "I think I spent a lot of time checking boxes in religion, and I don't think many people value as much the personal relationship with Christ you have with him. Inclusive love is something Goshen embodies every single day."
Neat is now a part of Campus Ministries at Goshen College. She has always felt connected to God in the community and desired to teach other students how to have an open, loving relationship with God. Neat's eyes lit up when she recounted her first time meeting Campus Pastor Jen Shenk. "When I met Jen, I was like, oh wow, she's freaking awesome," she said. Neat shared with Shenk that she was gay but noted how it wasn't even something she thought about. "She just took me in with loving arms. It was never 'Oh, I love you, but this…".
The feeling was mutual for Shenk, who was struck by Neat's earnestness and sincerity – in addition to her handshake and eye contact. "I'm impressed by how responsible and self-aware she is, showing a maturity beyond her years," shared Shenk. "Her strong faith in God is built on a foundation of compassion – she has a huge heart, and she lets Love lead the way." The two formed a good bond immediately and connected on getting students involved in ways that didn't initially require them to be bold. Shenk is looking forward to watching Neat spread her contagious joy as the team helps students find the spiritual support they're looking for.
"Her strong faith in God is built on a foundation of compassion – she has a huge heart, and she lets Love lead the way." – Jen Shenk, Campus Pastor
No Longer New
Now #22 feels like she is no longer new for the first time in her collegiate career as she begins year two at Goshen. She is excited about the stability and what the team can do this year. The Leafs went 7-21 in 2022-23 and were somewhat frustrated because they knew they were better. "We're not just saying that we underperformed and we're going to be better," Neat mentioned. "We really believe that."
Neat is also looking forward to her senior year as a social work major with a psychology minor – she will be completing her 400-hour internship with the Elkhart Police Department. "Law enforcement-based social work is something we desperately need," said Neat. "A lot of cops get a bad rap for not being able to do certain things when really their job is just law enforcement. We take those other things off their hands, which benefits both the community and the officers." Neat is passionate about working with vulnerable populations and may choose to work with grieving children. She connects with people who have lost their parents, not just because she has lost a parent, but because she can talk about it. She understands that just because two people share that background does not mean all their experiences are identical.
Zion Neat has shined through all her trials, tribulations, awards and accolades. She has been hurt but has relied on her faith in God, His limitless love, and His radical inclusivity.
Wendy Neat was nonverbal her last two days on earth. Except for one time in her final hours. Somehow, she pointed at the sky and said, "If you're gonna do it, shine." Those were her last words, and they became a mantra for Zion's family, church, and community. She later was looking through one of her mom's old journals when she saw a whole entry dedicated to shining and the verse Matthew 5:16, which starts, "Let your light shine…". Then came the tattoo.