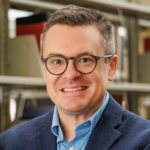 ELKHART, Ind. – Anabaptist Mennonite Biblical Seminary (AMBS) is offering an online short course taught by Dr. Drew Strait, Oct. 25 – Nov. 21.
Early registration deadline: Oct. 4
Final registration deadline: Oct. 18
This four-week short course defines White Christian nationalism and offers practical suggestions for how pastors and leaders can challenge White Christian nationalism. During this course, you'll join Drew Strait, PhD, for conversation in online forums and weekly hour-long synchronous meetings.
Drawing on the disciplines of biblical studies, theology and peace studies, this course will explore what realistic, everyday and effective nonviolent resistance can look like in the context of congregations. This course will give special attention to defining White Christian nationalism, political idolatry, nonviolent civil resistance and strategies for animating the whole life of Jesus for disorienting theologies of oppression.
Drew will host live video meetings from noon – 1:15 p.m. EDT on Wednesdays during this short course. Attending the live meetings is not required to take the course, and the meetings will be recorded for those who can't attend.
Designed for students of various backgrounds, whether or not you have completed graduate-level work.
Featuring input from four prominent scholars
Drew has invited the following scholars to contribute pre-recorded guest lectures to the course, offering their unique insights into Christian nationalism:
Cost
* 'Biblical Interpretation Across the Two Testaments' and 'Resisting Christian Nationalism with the Gospel of Peace' are not included in the Anabaptist Short Course Bundle.
Short course details
How short courses work
Courses are offered online and typically last six weeks each.* Short course students are expected to complete coursework on their own and post to an online forum weekly. Some short courses also include optional, weekly, live video conversations. These conversations are typically recorded for class members who cannot attend.
Short courses explore topics like Anabaptist history, biblical study, spiritual and ethical issues, worship, and more. These non-credit courses involve readings from textbooks and online articles and include written forum discussion. You won't receive a grade, but readings and discussion are comparable to seminary-level work, and professors assume you have critical thinking skills and some previous academic study.
*Resisting Christian Nationalism with the Gospel of Peace is four weeks long.
Online course requirements
You will need:
High speed internet access
Access to a computer with a web browser, a word processing program, and a PDF file reader (such as Adobe Reader)
An email account
Basic computer skills
One or two textbooks selected by the professor, available from a web source
Continuing Education Units (CEUs)
Continuing Education Units (CEUs) are available. Upon the completion of course requirements, you can earn 2.4 CEUs. However, no academic credit is awarded and these courses do not meet any requirements in the AMBS Master of Divinity or Master of Arts programs of study.
Before you register
Online learning is not for everyone. To help evaluate your skills and abilities to benefit from an online course, please follow this link to a quiz provided by Washington Online. Question 5 asks about available time to devote to the course. Short courses require, on average, 5-10 hours per week rather than the 10-15 hours mentioned in the quiz. With this in mind, we encourage you to take the quiz and find out whether you are a good candidate for online learning.
Refunds
Before the early registration deadline, cancellations will be refunded, less US$50. After this date, cancellations will be granted credit, less US$50, toward a future short course within one year. Refund credits must be requested within one week of the beginning of the event.
Questions? Contact us!