by Justin DeWeese, originally published by Goshen College
GOSHEN, Ind. – Interim head baseball coach Brad Stoltzfus will no longer have the interim tag in front of his title. Goshen College Director of Athletics Dr. Erica Albertin announced the GC grad will be the next head baseball coach for the Maple Leafs, effective on August 1.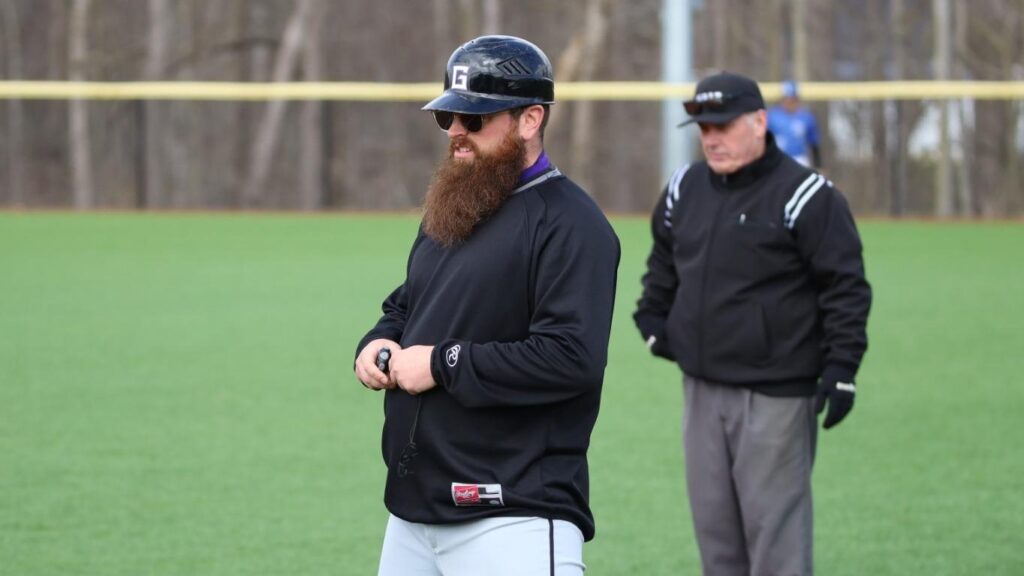 "I am excited to welcome Coach Stoltzfus as the head coach of Goshen College baseball," Albertin said. "Brad brings high energy, community connections, and a strong work ethic to our team. He has a servant leadership mindset and is a great addition to our staff."
"Goshen is home for me, and I'm just excited to start moving forward with the team," said Stoltzfus. "We have a lot of promising and talented individuals that I'm eager to grow and work with."
Stoltzfus has been an assistant coach for the program since 2020 and was a volunteer assistant in 2019. He is a 2018 Goshen College graduate who made 199 appearances as a first and second baseman. Stoltzfus gained a reputation as a hard-nosed competitor who never gave up. At the end of his career, he held the school record for walks and runs scored; he was fifth in games played, eighth in hits and eighth in doubles. He was named the interim head coach on May 3 following the resignation of Alex Childers, who left to spend more time with his family after 11 seasons as head coach.
"I care a lot about the baseball program, and the opportunity to grow it is something I'll be forever grateful for," Stoltzfus said. Stoltzfus will be the 12th head coach in program history. The 2024 Goshen baseball season will be the 68th edition and is slated to begin the first weekend of February.
Goshen College is a renowned college in Northern Indiana with award-winning programs that educate the head and heart, creating global citizens who lead with courage and compassion. The Maple Leafs compete in 14 varsity sports in the NAIA's highly competitive Crossroads League and Wolverine-Hoosier Athletic Conference, continuing a tradition of intercollegiate athletics that dates to 1956 and included women's competition nearly a decade before Title IX. For more information on GC athletics, visit GoLeafs.net and follow the Maple Leafs on Facebook, Twitter and Instagram at @GC_MapleLeafs.