originally published by Goshen News, Goshen, Ind.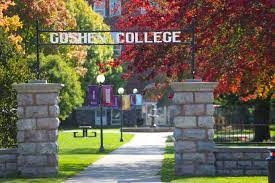 GOSHEN — Goshen College has been named among the best baccalaureate colleges in the United States, according to a new ranking system from Best-In-Class Colleges.
Goshen College was identified as one of 93 colleges in its class honored for ranking in the top third of colleges regionally. The new honor roll titled, "Best in the United States: Baccalaureate Colleges with Diverse Fields" alphabetically lists all the colleges that ranked highest in their respective regions.
"The colleges in this ranking have demonstrated their prowess in higher education, showcasing their ability to provide a transformative and enriching college experience," a press release from the organization indicates. "From fostering an inclusive and supportive learning environment to attracting top-tier students, these colleges lay the foundation for academic and personal growth. The comprehensive data considered in this ranking reflects their commitment to delivering a high-quality education that equips students with the knowledge, skills, and opportunities to excel in their chosen fields."
The full description and honor roll can be found at bestinclasscolleges.com/best-colleges-in-the-united-states-baccalaureate-colleges-with-diverse-fields.
This ranking system uses objective data from publicly available, authoritative sources such as the U.S. Department of Education's National Center for Education Statistics, the Department of Education itself, the U.S. Treasury Department, the National Student Loan Data System, and the Integrated Postsecondary Education Data System. Best-In-Class Colleges assesses metrics that reflect the overall quality of each institution. This includes student satisfaction, appropriate enrollment standards, caliber of the student body, the percentage of students successful at degree attainment, on-time graduation, high salaries after college, low debt, and more.
Multiple college ranking sources use similar metrics. What sets this ranking apart is its unique approach of comparing colleges exclusively within the same class and region. Goshen College excels in those metrics when compared to other colleges in the same class and region.
Best-In-Class Colleges maintains that metrics involving student retention, salaries, and debt cannot be compared across disparate regions or classes of colleges. Local economics play too large a role in these metrics. These reviewers separate colleges into classes based on mission, majors, and levels of degrees awarded.
For instance, colleges that focus on engineering have different outcomes compared to colleges that focus on training elementary school teachers. Colleges that award primarily associate degrees have different outcomes compared to colleges that award primarily doctorate degrees. By exclusively comparing colleges within their own respective classes and regions, one gets a more fair and meaningful evaluation of how the college itself is performing.
For its focus on bachelor's degrees, its dedication to offering education in a range of disciplines, and its offering of an educational experience likely to produce well-rounded graduates, Goshen College has earned a place in the classification titled "Baccalaureate Colleges with Diverse Fields."