by Larry Bartel, originally published by Hesston College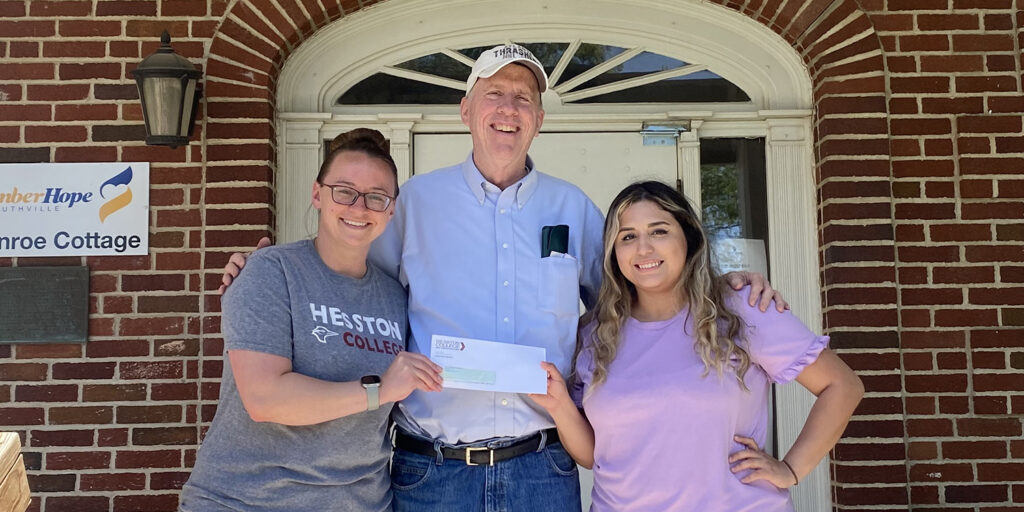 After a semester of fundraising, the Hesston College Nursing Club presented two large donations to New Hope Shelter in Newton. The first donation consisted of clothes, food, hygiene supplies and a variety of other items that filled four cars, and the second donation was a $1,000 check presented to shelter executive director Brian Bisbee.
"One of the many reasons that we want to become nurses is because we want to help people," says 2023 nursing club president Michelle Ramos-Carreno, a senior in the college's Bachelor of Science in Nursing program. "Our goal with this project was to help make a difference in our local community by providing resources the community needs through these donations."
What began as a genuine desire to offer resources and assistance to those in the local community who are in need, soon turned into a friendly competition that spurred the fundraising progress. It was juniors against seniors to see who could bring in the most donations. The nursing club also opened up the fundraiser to the greater campus community to gain additional support. While the junior class was eventually crowned champions by a narrow margin, it was the combined effort of all that really made an impact. Together, they were able to meet their monetary fundraising goal and exceeded their own expectations through the item drive.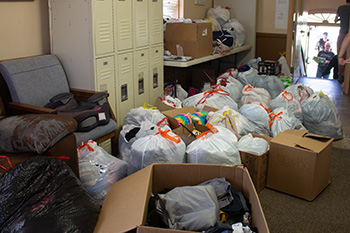 "When the day came to finally deliver everything, it felt amazing to see all of the items we collected and the funds we have raised," Ramos-Carreno recalls. "With New Hope working to expand their resources and construct a new site, it's exciting that our contributions can go to their new site."
Bisbee says he was aware of the nursing club's fundraising efforts, and was pleasantly surprised by the donations received. "We were very encouraged by the number of donated items and we were most impressed with the quality and attitude of the nursing program students. They were so willing to help and showed their care," he says. "We are supported by the community with no government tax dollars–and they showed themselves to be part of that community."
According to Bisbee, their annual food budget is only $75, so the food donations will be especially beneficial to the people New Hope Shelter serves. "It particularly helps us with breakfasts and lunches. A large number of work lunches are packed out of here every week and we have to have food to provide those." Bisbee explained.
After receiving the donation, Bisbee offered nursing students a tour of their new site location and the construction progress made on their future building. Ramos-Carreno says this experience made an even deeper impact on her, "Seeing the site in person made a mark in my heart thinking about how our contributions will benefit New Hope and the community as they expand to their new site."
This was the second year Hesston College Nursing Club raised funds and resources for New Hope Shelter, a project Ramos-Carreno foresees continuing into the coming years. "Being able to be a part of helping New Hope offer resources to the local community has made a positive impact on us and it is something that the nursing club enjoys to continue to be a part of making a difference," she says.