by Henok T. Mekonin, originally published by Anabaptist World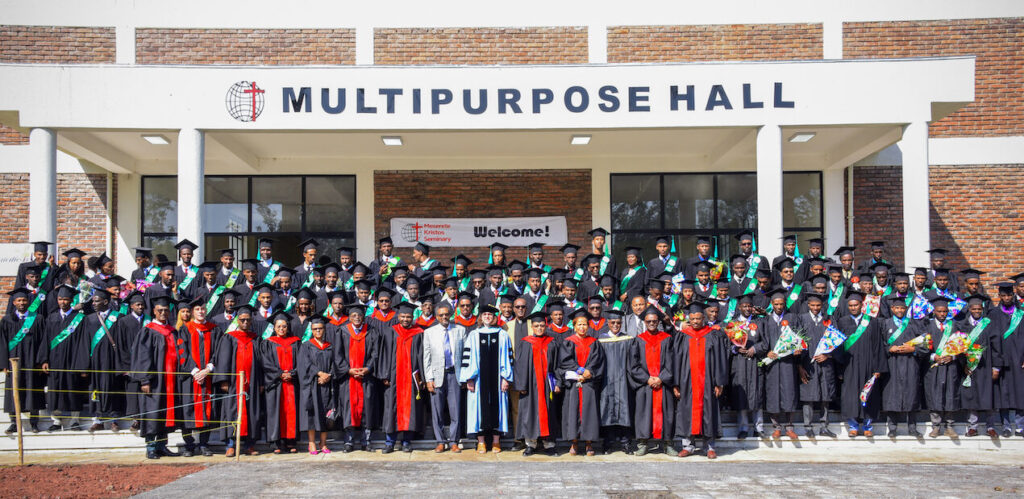 During Meserete Kristos Seminary's Commencement Service on May 20, 2023, 101 graduates, including the seven MA graduates, were honored in the seminary's Multipurpose Hall in Bishoftu, Ethiopia. All 101 men and women completed their degrees and were candidates for graduation. Since the seminary's beginning 29 years ago, it has trained and graduated men and women, bringing the total number of graduates to 2,273.
For the first time in the history of the Meserete Kristos Church and seminary, the seminary graduated a cohort of Ethiopian students who completed the Master of Arts program in Theology and Global Anabaptism (MATGA). This cohort consisted of seven graduates. These students achieved this milestone entirely in Ethiopia through a partnership between Anabaptist Mennonite Biblical Seminary, Elkhart, Indiana, and Meserete Kristos Seminary in Bishoftu/Debre Zeit, which began in 2019.
Beverly Lapp, Vice President and Academic Dean at AMBS, along with Daniel B. Grimes, the former Vice President for Enrollment and Advancement at AMBS, were in Ethiopia to represent AMBS.
President Desalegn Abebe, who serves as the president of the Meserete Kristos Church, highlighted the continuous growth of the church and the increasing need for trained leaders. He emphasized the importance of education and wisdom during his address. The graduates were motivated to embrace challenges, develop critical skills, and transform their education into wisdom.
The president encouraged graduates to take risks, broaden their horizons, and adopt an open-minded and tolerant attitude towards others. "A crucial challenge of education is to transform skills and intelligence into wisdom," said Abebe.
He also said, "We are confronted with making choices in our daily lives. Sometimes, these choices involve two overwhelming desires, and we have the ability to make both good and bad decisions. However, it's important to note that sometimes it's not the decision itself that hurts, but rather the way in which we make decisions."