originally published by The Goshen News
GOSHEN — Gina Leichty has been selected as the future interim Goshen mayor.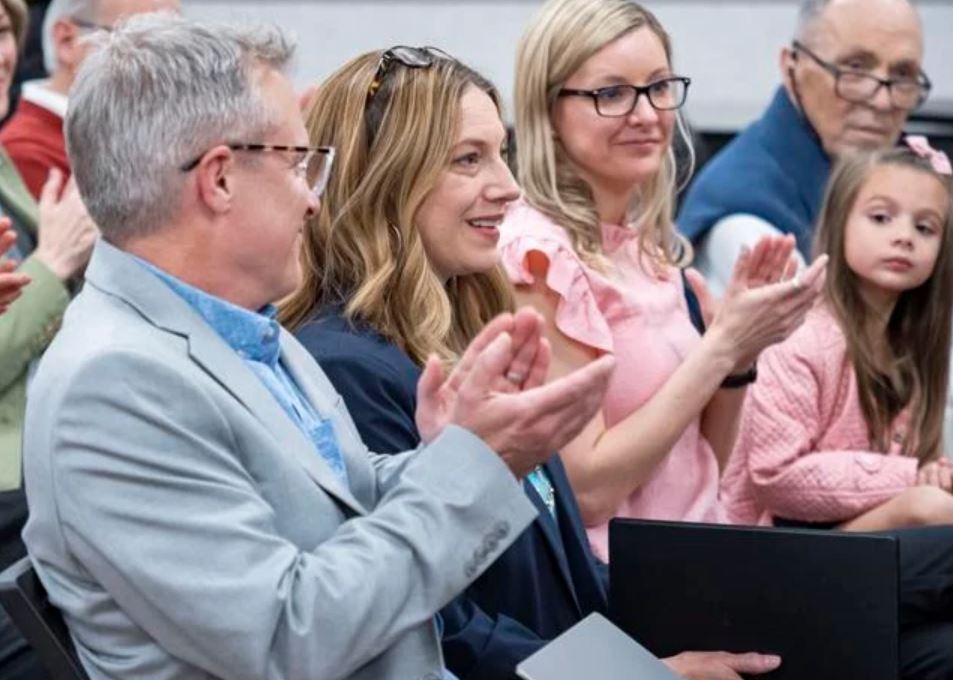 The First Fridays founder will take office June 16, with the resignation of Jeremy Stutsman.
"To the community of Goshen at large, thanks for showing me what was possible," Leichty said following the announcement Thursday evening. "We have already, and we will continue to set a new standard of excellence. I can't foresee the future, but I can guarantee that I will work tirelessly to ensure a smooth transition for our community and our city employees, and I'll do everything I can to make the best city for future kids who are dreaming of an ideal city to call home."
The Elkhart County Democratic Party hosted a caucus Thursday night at Goshen Public Library to determine the future of the mayoral position. Goshen Mayor Jeremy Stutsman announced March 22 during his State of the City Address at Founders Day that he would be stepping down from his position as mayor to take over as CEO of LaCasa.
"This job has been one of the greatest honors of my life," Stutsman said of his impending departure. "I can't imagine not having this opportunity that I've had now that I've had it. I will remember every bit of it for as long as I live."
In late February, he asked Leichty to step forward as a candidate for the caucus and consider running for the upcoming election.
"Like so many of you, I was initially shocked and totally disappointed that we'd lose such a strong community leader as our mayor," Leichty recalled of hearing the news.
With six months left of his current term, Stutsman said he'd been offered the position at LaCasa after he already announced his candidacy for what he believed would be his final term as mayor and instead endorsed Leichty as his successor and interim mayor.
"My initial response to the mayor's inquiry was not unlike the Hebrew Biblical story of Moses, who, when asked to lead the Israelites said in Exodus 4:13 'Oh my Lord, please send somebody else!'" she recalled. "I left that meeting with a lot to contemplate and little time to decide."
Ultimately, Leichty agreed to run for the position.
"I've seen and experienced the dramatic power of a community that comes together to create positive change," she said of her decision. "I've seen Goshen, in my 30 years here, transform itself into a destination. I've seen creativity flourish. I've seen how entrepreneurs grow and build empires of success, and I've seen Goshen come together in times of crisis. I've seen competitors come together to help each other in order to address our most challenging situations. And every time that I've been able to take a role in bringing people together around a common cause, people who have vastly different agendas and views, I've found my deepest sense of purpose."
With no other candidates having filed as contenders by the deadline May 1, committeemen in attendance voted unanimously in favor of Leichty, who received a standing ovation following the official announcement.
"Gina Leichty is one of the most intelligent and thoughtful people I know," Stutsman said. "I am really, really excited to see what she brings to Goshen. She's going to bring pieces that I don't have."
Leichty has been a resident of Goshen for nearly 30 years. Her passion for Goshen began as child, visiting her grandparents who lived in town. She recalled being amazed by the fair, Shanklin Park, the Burger Dairy Store, and even once as a kid, planning to run away from her family farm in Rensselaer to live in 'the big city.'
Following graduation from Goshen College, Leichty's career began at Goldenrod, where she developed policies and procedures that allowed the developmental disabilities organization to secure Medicaid licensure as the Director of Operations. Later, as the first Director of Communications for Keystone, Leitchy developed the internal communications department and went on to do that twice more for Lucid Energy Technologies and Terra Group.
She was a founder of the Goshen Theater's 501c3 revitalization, and of Downtown Goshen, Inc. which supports First Fridays, and later she and her husband Ben Stutzman founded the marketing firm Eyedart Creative Studio, which, aside from supporting local businesses and creative ventures, helped to develop Good of Goshen, focusing on telling the stories of Goshen and its citizens.
"As a Democrat, deeply rooted in Midwestern values, I believe in the value of hard work, doing the right thing, saving for the future, being very friendly and hospitable, and coming together in times of need," Leichty said. "My values carry over into my approach to city government. Simply put, I'll work hard, protect what we have, welcome the stranger, and ensure that I leave the city in even better shape than I found it."
Elkhart County Democratic Party Chairman Chad Crabtree reiterated at the caucus that filling elected office vacancies is the most important task of a precinct committeeman. Precinct chairs are elected positions themselves and if there aren't any candidates, the party chair fills the vacancy.
Once Stutsman removes his name from the ballot, the Democratic party chair has the authority to appoint the vacancy in office to the ballot. Crabtree said he announced to his chairmen that whoever they selected during the caucus, he would appoint. Therefore, Leichty will also be the Democratic candidate in the November election coming against the newly selected Republican candidate Bill Malone.