by Camille Dager for Mennonite Church USA and available here
Joel Shenk, pastor of Toledo Mennonite Church, describes how he learned blacksmithing as part of his personal peace witness and how his conference and congregation have joined him in this work.
---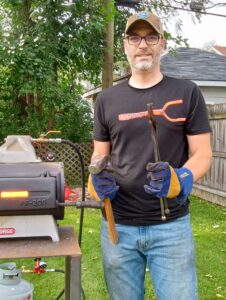 Joel Shenk is pastor of Toledo (Ohio) Mennonite Church, an Ohio Mennonite Conference congregation, where he has served since 2010. He graduated from Hesston College, Eastern Mennonite University and Fuller Theological Seminary He is an avid fly fisher, an aspiring gardener and an amateur blacksmith. He, his wife and two daughters live in Toledo.
_________________________________________________________________
Camille Dager, chief communication officer for MC USA, talked to Joel Shenk about his peace witness in response to growing gun violence in the U.S.
How has gun violence impacted you?
Pastor Joel: It hasn't impacted me directly. What has impacted me is seeing the gun violence in our society, militarized law enforcement, gang violence, police shootings, suicides and mass shootings at schools. Back in 2016, some of us at Toledo Mennonite Church started asking if there is anything that we, as a church, could do. That's when we got started with RAWtools.
[RAWtools is an MC USA-affiliated ministry, focused on moving communities away from violence by making garden tools from guns, as well as helping teach new ways to solve problems through relationships, dialogue and alternative means of justice.]