Written by Jolene VonGunten for MEA
ELKHART, Ind. – Mennonite Education Agency (MEA) Hispanic Ministries Instituto Bíblico Anabautista (IBA – Anabaptist Bible Institute) has been serving the Hispanic Mennonite Church for 35 years. But don't expect them to rest on their laurels.
According to Marco Güete, director of Hispanic Ministries for MEA, this is just the end of the beginning for IBA and for Mennonite Hispanic Ministries in the United States. "It is deeply gratifying to look back over three decades and see how God has led us and blessed this ministry," he said. "We move ahead in hope and trust for God's continued guidance in our work."
In 1988, Güete was part of a group of Hispanic and Latino leaders who imagined a way to train leaders in every Hispanic Mennonite church. They founded IBA – a biblical and theological education program to train men and women for ministry within the church. They built partnerships with local congregations across the country, established study centers within those churches, and recruited students and teachers. Hundreds of students have enrolled in the program since then. Many have graduated with a Diploma in Biblical and Ministerial Studies and have gone on to serve as pastors and leaders in the church.
Although the COVID-19 pandemic was a blow to in-person programming, today IBA's study centers crisscross the country from New York to Miami, from Virginia to Iowa. Thanks to the lessons of the pandemic, IBA has one hybrid center for in-person and remote study and one fully virtual center. More virtual centers are in development.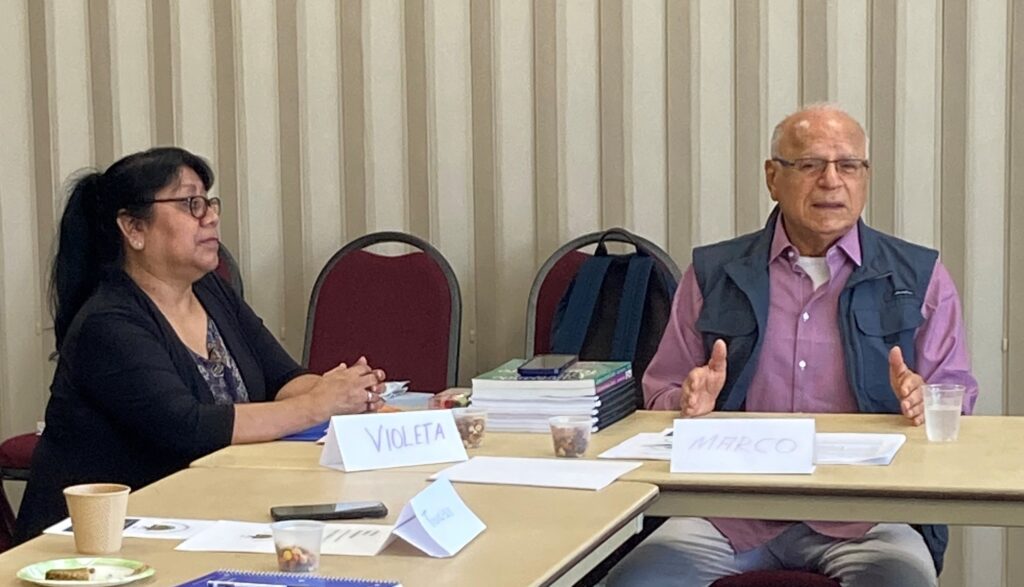 On a sunny Saturday in September, Marco Güete and MEA Associate Director for Hispanic Ministries Violeta Ajquejay Suastegui gathered with a group of eager new students for orientation at College Mennonite Church in Goshen, Indiana. Lilting Spanish flowed as the students introduced themselves. Most of the students were there because someone encouraged them. Güete called this a "shoulder tap," and he shared his own story of being called to ministry. He was running a successful business in New York City and was approached to study ministry at Goshen College in Indiana. "It was a risk," Güete said, "to leave a flourishing business and move my family from New York to Goshen. But that tap on the shoulder was God calling me to ministry, and I have never regretted it." Güete encouraged the students to listen for God's call in their lives.
This cohort of students established the 13th IBA study center in the United States. It is a partnership between College Mennonite Church and Prairie Street Mennonite Church in Elkhart, Ind. Pastor David Maldonado and Pastor Madeline Maldonado from College Mennonite Church and Pastor Quinn Brenneke from Prairie Street Mennonite Church are working as a team to tutor the students in weekly class sessions.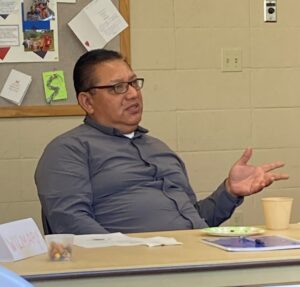 Pastor Madeline Maldonado sees a critical need for IBA. "The Anabaptist Biblical Institute was created to educate Spanish-speaking leaders to lead from an Anabaptist perspective, along with a solid biblical foundation," she said. "This program has been crucial in developing leaders to lead, who think critically and also share their knowledge with members of the growing Spanish-speaking Mennonite Church in the United States. These leaders not only serve the church but also the communities they live in."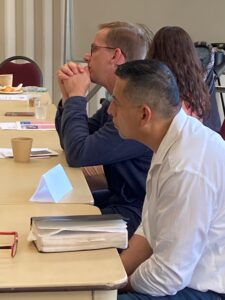 Pastor Brenneke asked for prayer for the students and tutors. "Balancing studies and other responsibilities will be challenging," he noted, "and we'll all need encouragement to keep going. On the other side of all the hard work, though, is hope for the gifts and ministries that will be developed in the students. Jesus told his disciples, 'The harvest is plentiful, but the laborers are few; therefore, pray earnestly to the Lord of the harvest to send out laborers into his harvest.' I am filled with hope when I think about how IBA will be part of sending more 'laborers into the harvest.'"
Laborers, indeed. As Marco Güete notes, "IBA is a school without walls because the greatest effort relies on the discipline of each student and their desire to advance their own learning."
"The Hispanic Mennonite church is growing," Güete said. "We want these congregations to have well-trained disciples of Jesus to lead them."
Planning is underway to celebrate IBA's 35 years of ministry.
To learn more about Hispanic Ministries and IBA, contact Güete at MarcoG@MennoniteEducation.org.
The Hispanic Ministries programs of MEA also include Seminario Bíblico Anabautista Hispano (SeBAH – Hispanic Anabaptist Biblical Seminary), MenoTicias (Mennonite News), a monthly digital publication, and the podcast Un Momento de Anabautismo (An Anabaptist Moment). A Graduate Certificate in Theology was launched this fall in a historic partnership between MEA Hispanic Ministries and Anabaptist Mennonite Biblical Seminary (AMBS). Continuing education courses and workshops are also offered.
Mennonite Education Agency is the education agency of Mennonite Church USA (MC USA), headquartered in Elkhart, Indiana. MEA partners with Anabaptist Mennonite educational institutions and programs affiliated with MC USA to strengthen the church through education.
###