Alumni and faculty of Mennonite schools give leadership to the initiative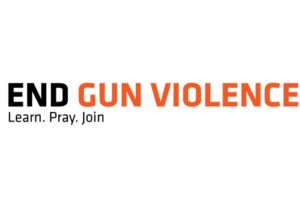 by Mennonite Church USA Communications and available here
ELKHART, Ind. (Mennonite Church USA) — Mennonite Church USA (MC USA) has launched "Learn, Pray, Join: End Gun Violence," an initiative to bring awareness to the complex issue that intersects with poverty, racism, discrimination, criminal justice, education and the environment.
Approximately 118 people per day die by gun violence in the U.S. and according to statistics from the Centers for Disease Control and Prevention, more Americans died of gun-related injuries in 2021 than in any other year on record.
"Our Anabaptist faith means prioritizing responses that reject the use of violence and acknowledging the justice issues through advocacy, education as well as compassion and support to those affected by gun violence," said Lorraine Stutzman Amstutz, MC USA denominational minister of Peace and Justice. "We need to use our voice to advocate and explore solutions to the prevalence of gun violence within our communities," she added.
[Lorraine Stutzman Amstutz is a graduate of Eastern Mennonite University and was on the faculty of the Summer Peacebuilding Institute. Malinda Berry is a graduate of Anabaptist Mennonite Biblical Seminary (AMBS) and Goshen College. She is on the faculty of AMBS. Andrew Suderman is on the faculty of Eastern Mennonite University.]