abridged from a Facebook post by Freeman Academy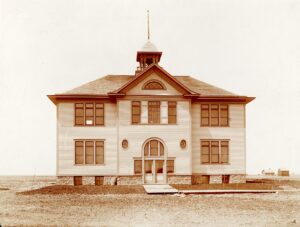 Five months after ground was broken for construction of the classroom building for South Dakota Mennonite College, the two-story building (plus a basement) was completed in time for the first school term to begin in October.
There is no record that it was ever given a name. It was simply referred to as "The College" since it was the only building on the campus. It remained the classroom and administration building until 1926 when a new three-level building was erected to the southeast; it's known today as the Administration Building.
"The College" stood relatively empty for more than a decade before becoming home to a small museum (an early version of Heritage Hall Museum & Archives) in the early 1940s and the basement became home to a shop and mechanics course. A renovation project in the mid-1950s converted the south portion of the first floor into the band room and a decade later the south portion of the second floor became the choral music room. Since then, it has been known as the "Music Hall." It later became home to the art department. Today, 120 years after it was built, it continues to be used for art, choral music and as classrooms for the lower elementary program.
(Thanks, once again, to Heritage Hall Museum & Archives for piecing together these bits of history.)