abridged from a Facebook post by Freeman Academy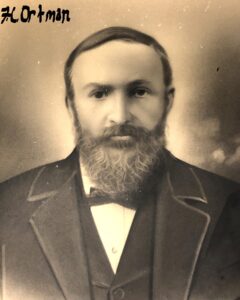 In her book "For Half a Century," published in 1951, Marie J. Waldner writes that Mennonites who settled in the Freeman area in the 1870s increasingly felt the need for education that would emphasize "the Christian values generally held essential by these Mennonite immigrants."
Friedrich C. Ortman, a local Mennonite teacher, gave impetus to definite action, she writes.
"Contact with Rev. David Goertz of Newton, Kansas in 1890 and a visit to various Mennonite communities in Kansas in the winter of 1894-95 made him (Ortman) realize the need for providing teacher training facilities which would help to supply rural district schools with Mennonite teachers capable of teaching both the required English subjects and the German religious classes."
After consulting with elder Christian Kaufman, pastor of the Salem-Zion Church, meetings were held in 1900. One of the first topics of discussion was where the school might be located. Although both Bridgewater and Marion were considered, Waldner writes "the majority of the school friends of that time sympathized with the idea of considering Freeman the center of the Mennonite settlement and did not wish to consider any other offers. Thereupon, the other towns withdrew."
In July 1900, with Freeman chosen for the location, efforts shifted to drawing up articles of incorporation and formulating bylaws. On December 10, 1900, the South Dakota Mennonite College Corporation was formally organized and the first board of directors was chosen.
Andrew Gering was elected president, John L. Wipf secretary and D.J. Mendel treasurer. Board members also included Cornelius Ewert, Joseph P. Graber, Christian Mueller, D. Tiesen, Sam Walter and Jacob Waltner.
"The groundwork was laid for a school which was to provide the opportunities and influence of Christian training for generations of young people in the community," Waldner writes.
(Special thanks to Heritage Hall Museum and Archives for this bit of history.)