by Tricia Bell for Bluffton University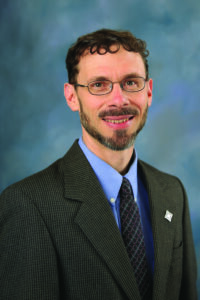 BLUFFTON, Ohio—Dr. Jonathan Andreas, professor of economics at Bluffton University, will present the Colloquium, "Anarchy, the State and Capitalism: Myths About Coercion and Hierarchy" at 4 p.m. on Friday, Sept. 8 in Centennial Hall's Stutzman Lecture Hall.
During the presentation, Andreas will discuss how hierarchies shape interactions. He'll discuss the fascinating evolution of hierarchies and delve into both the benefits and pathologies they can generate. By appreciating and mastering the principles of hierarchy, Andreas believes people can become more effective leaders and gain insights that resonate with every aspect of human existence.
Andreas is the Howard Raid Professor of Business at Bluffton. The title honors the late Howard Raid, a Bluffton business professor from 1947-79.
This event is free and open to the public.