written by Justin DeWeese, originally published by Goshen College and available here
Strength in Unity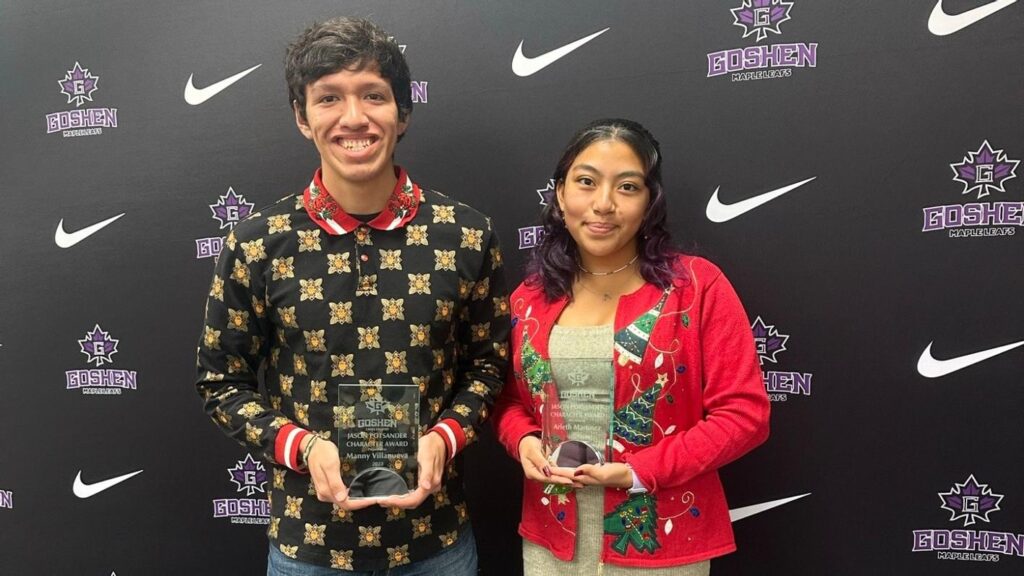 Arleth Martinez stays busy. In addition to being on the Goshen College cross country and track & field teams, Martinez is also involved on campus as a co-founder of One Circle, a PIN leader (Prevention and Intervention Network), a part of Eco-Pax and an SST (Study-Service Term) Ambassador. This upcoming school year, she will also be an RA and will be a sports co-editor for the GC student-run newspaper, The Record. Lastly, Martinez is a Dismantling the Doctrine of Discovery Oak Flat subcommittee member. But no matter which organization she is working to make better, Martinez always has a solid ability to unite whatever team she is a part of.
A Voice for Others
Martinez was born in Mexico City but lived most of her childhood in Orange County, California. In 2017, her family moved to Goshen, Indiana, during her second semester in high school. It was a drastic shift, and while she had run cross country her first year in California, she fell into her own bubble and stopped with the sport after the move. Yet she stayed involved through National Honor Society and Student Council. She enjoyed being a voice for the student body because she understood it could be challenging for others to be that voice for themselves. Throughout high school, Martinez realized that she missed running and was searching for ways to get involved again. She found that by being the manager for the boy's track and field team at Goshen High School during her junior year, and she did so again the following season.
But being a manager and running was a big difference. Although she hadn't run on a team in over three years, Martinez wanted to find out if she could run in college. "I find running very healing to me," she said, "and I love the atmosphere of competing, having that team, and being a cheerleader in a sense." She talked to Goshen College head cross country coach Rustin Nyce, who was also the head track & field coach at the time, and they decided to go for it.
"We worked on a plan to help prepare her for the season," said Nyce. "She was very interactive and communicative while working over the summer. When the season began in August, it was fun to watch her interact, with ease, between the women's and men's teams." Nyce added that he has repeatedly seen her humility, care for others, and enthusiasm rise since getting to know her better.
But running hasn't always been kind to Martinez, as she has had her fair share of injuries. Last year she was out for the indoor and outdoor track & field season and over half of the cross country season. That didn't deter her optimism, however. "Even when I'm not able to contribute in a running sense, I contribute in another way," she shared. Martinez was at every single meet, even if she wasn't running, making sure that everyone had their water, spikes and shoes, and was running warmups with them when she was healed.
Her reliable presence does not go unnoticed by her team. She won the Jason Potsander Character Award in her freshman and sophomore years. The award is named after a GC cross country and track alum diagnosed with stage IV pancreatic cancer but has lived life to the fullest with impressive bicycling achievements. In 2020, "The Goshen College Cross Country Heart Award" was renamed "The Jason Potsander Character Award" to recognize one male and female student-athlete that has been able to withstand challenges. It is the only award voted on by the team.
"Arleth is kind, outgoing and approachable," Nyce shared. "You leave an interaction with her smiling or feeling better. She always has ideas about things to do or ways to connect that seem natural and inclusive." Rustin Nyce, head cross country coach
Finding Her Calling
After her first year, Martinez went on a three-week SST trip to Arizona and New Mexico for a class on Ecological Economies with other cross country team members. Her passion for uniting people toward a common cause was solidified after one particular experience while on the trip. The team volunteered at Casa Alitas, a program that aids migrant families by providing hospitality, including food, shelter, advocacy, and travel assistance.
One man was asking for help from someone bilingual. Martinez fits the bill, so she offered her services to help fill out paperwork so the man's mother could get out of detention. They sat there for a while and figured everything out as they went back and forth with lawyers. "It was at that moment that I knew this was my calling," she said. She switched her major from biochemistry to sociology with a minor in social policy and advocacy. Although she enjoyed biochemistry and helping that way, she discovered that helping in this other way seemed to fit her best.
While in Oak Flat on the SST trip, Martinez learned about a proposed mining operation by Resolution Copper that would be on the land. While it would boost the economy and advance green energy, it would be detrimental to the ground and the local communities it is sacred to. Martinez created a campaign within the cross country team during the season to dedicate the miles they ran to the Apache Stronghold – a group dedicated to defending sacred sites.
"As runners, you hold such significance in the world because you get to interact with the land every single day in a way others may not get to," Martinez shared. The team learned about their important interaction with the land from Wendsler Nosie, an Apache activist and long-distance runner. Even when she was injured, Martinez was still there – present and able to be with the land by biking or walking. "I was still surrounded by these amazing people, and it's all because we're united through running."
Being united through running took on a new meaning for Martinez and the rest of the Goshen cross country squad on October 16, 2022.
In Our Strides
On that day, Ezra Kipruto Kogei, a member of the men's cross country team, was involved in a severe car accident and was treated at South Bend Memorial Hospital. He was unable to survive his severe injuries and died on October 22. Kogei was a transfer from Liberty University and was in his first year with the team. He ran his first race at GC on October 1 and placed 28th out of 416.
Martinez said Kogei loved running on the gravel Millrace Trail in Goshen along the hydraulic canal and its bridges. "When we found ourselves missing him, we always found him with running and doing that 10-kilometer loop that he always loved to do," she said. "Going on the Millrace and running now reminds me that he was running on this path too. I am running in his footsteps, and he was running in our strides." It has been a grounding example for Martinez of what it means to be connected with the land and united through the sport she loves.
In It Together
Later that year, Sarah Augustine spoke at a convocation at Goshen College. A Pueblo descendant, Augustine spoke about standing in solidarity with Indigenous Peoples through her work as the Executive Director and founder of the Dismantling the Doctrine of Discovery Coalition. The talk moved Martinez and her teammate Manny Villanueva to create a new intercultural student group on campus to teach students all about important issues surrounding Indigenous inequalities. Under the advisory of Augustine, Martinez and Villanueva created One Circle.
They wanted the name of the club to be unifying, and it came from part of a prayer by Nosie, "one drum, one prayer, one circle." "It states that we're all in this together," Martinez expanded. "The name looks ahead for all those students that come after us, but also all the students that have been here before us."
In February, Martinez presented to the Coalition for Dismantling the Doctrine of Discovery about her experiences in Arizona. As an SST ambassador, she has been working with Jan Bender Shetler, Director of Global Engagement, to improve programming for Hispanic students. Then, One Circle hosted the Oak Flat Prayer Movement support walk in March. The most recent major event that One Circle hosted was an ICWA (Indian Child Welfare Act) press conference held at Waterford Mennonite Church. ICWA establishes minimum federal standards for the removal of Indian children and their placement in foster or adoptive homes. Martinez and Villanueva informed the community about the law and discussed their requests to meet with the Indiana Attorney General to determine why the state is against ICWA. Recently, a staffer reached out to the group and asked to meet.
"Arleth is modeling ways to address injustices by speaking publicly to leaders in positions of power," said Vice President for Student Life and Dean of Students Gilberto Pérez Jr. "Her vision for opening more space for dialogue about issues in the indigenous community through One Circle invites us to engage in solidarity."
Meanwhile, the group is closely monitoring the Oak Flat case and will be participating in the Indigenous Peoples' Day celebration at the Goshen Theater on October 9. Individually, Martinez looks forward to starting her sociology major and seeing where it leads. After Goshen College, she expects to stay connected with her advocacy work and maintain her relationship with Sarah Augustine. Another route she could see herself going is in the area of immigration and law and giving back to her community in that way. She cited the concerns of the immigrant Hispanic and Latinx communities and how she could help as an attorney or advocate.
She is also looking forward to the cross country season this fall. The women's team narrowly missed a spot at the NAIA National Championships, and they have the hunger with many of the same faces from last year's team. The men are coming into the season very strong, and she is excited to see what they can do this year. They are looking to compete at nationals for the fifth year in a row.
Everything connects for Arleth Martinez. The past with the future, the runner with the land, the living with the deceased and the supporter with the supported. "In the end," she said, "we all come together in one big circle."