Committee includes alumni from MC USA partner schools
written by Christle Hain, originally published by Mennonite Church USA and available here.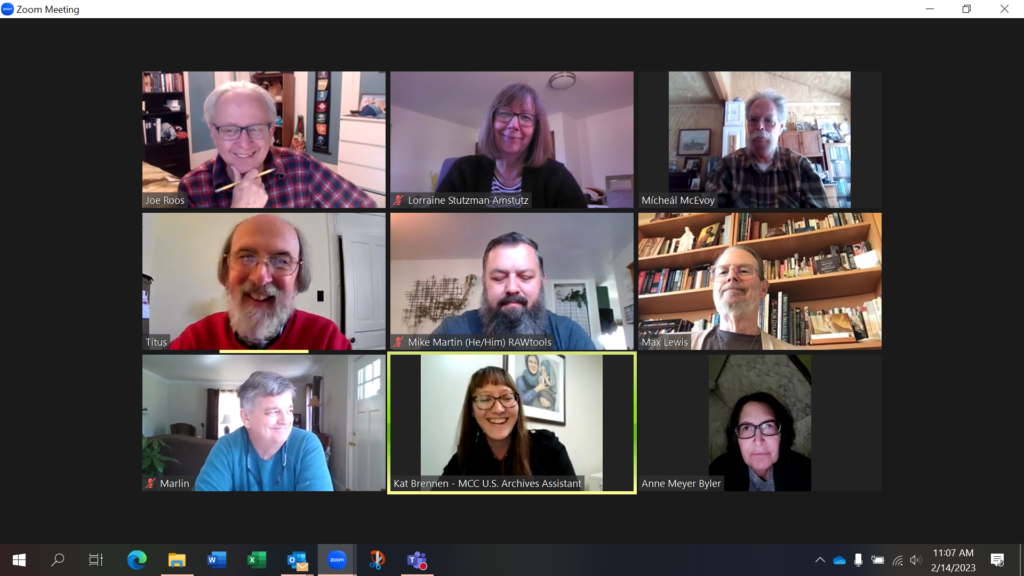 ELKHART, Ind. (Mennonite Church USA) — Peaceful Option for Training and Careers (POTC) — formerly known as Alternatives to Military Enlistment Network (AMEN), — has formed a steering committee, recruited volunteers and began its work to counter the recruitment of youth by the U.S. military. POTC is an independent initiative that began as an outgrowth of a collaboration between Mennonite Central Committee and Mennonite Church USA.
The new steering committee is working on initiatives ranging from fundraising to providing tangible ways for young adults to participate. The steering committee, which includes a number of alumni from MEA-affiliated schools,  is comprised of Kat Brennen, Jes Stoltzfus Buller (Bethany Christian Schools, Goshen College, Eastern Mennonite University's Center for Justice and Peacebuilding), Anne Meyer Byler (Goshen College), Max Lewis, Mike Martin, Mícheál McEvoy, Titus Peachey (attended Eastern Mennonite University), Joe Roos, Fred Suter (Bluffton University), and Marlin Yoder (Eastern Mennonite University). 
"It has been wonderful to see the POTC steering committee come together over these past nine months and to experience the passion and knowledge each person brings to the conversation," said Lorraine Stutzman Amstutz, MC USA denominational minister for Peace and Justice, alum of Eastern Mennonite University and 17-year instructure of the Summer Peacebuilding Institute of EMU's Center for Justice and Peacebuilding. "It is a sign of hope that, to date, 55 people have responded to the call to work on this project to deepen our commitment to seek alternatives for young adults."  
One of the first items the steering committee solidified was the initiative's name. After brainstorming possible names, the committee settled on Peaceful Options for Training and Careers: Alternatives to Enlistment. The name describes the mission and provides the English-language acronym POTC, a creative counter to the U.S. military's high school recruitment program, known as ROTC (Reserved Officers Training Corps).
Roos, chair of the Mennonite Palestine Israel Network, said, "With the U.S. military aggressively recruiting [high school students] with visions of a glorious future, enlistment can become an attractive possibility. But based upon our Anabaptist commitment to nonviolence, we want to let young people know that there are peaceful and meaningful alternatives to enlistment."
A second item that the steering committee did was to gather 10 potential counselors for orientation to POTC and the task of counseling for this purpose.
"It was an enthusiastic group, eager to provide practical help to young adults seeking an alternative to military enlistment. Some are now busy researching alternatives in preparation for more in-depth training in the fall," said Peachey, former coordinator for Peace Education, Mennonite Central Committee U.S.
"Mennonites have a long history of conscientious objection and commitment to service; POTC offers a place for folks passionate about antimilitarism to provide tangible support to young adults looking for alternatives to military service," added Jes Stoltzfus Buller, current Peace Education coordinator for Mennonite Central Committee U.S.
The steering committee plans to continue their work, including launching a new website, counseling and fundraising. Those interested in giving to POTC may send contributions to the following address: Mennonite Church USA, 718 N Main, Newton KS 67114-1703. Be sure to list POTC in the memo line or on the check stub to ensure that the contribution is marked properly for POTC.
Read the news release about the origin of POTC here.
If you are interested in volunteering with POTC, please complete this form.
Mennonite Church USA is an Anabaptist Christian denomination, with offices in Elkhart, Indiana, and Newton, Kansas. MennoniteUSA.org
---
Steering committee members:
Kat Brennen
Brennen lives in Lancaster County, Pennsylvania and works in the library of Mennonite Central Committee. She is passionate about theater, travel, using words thoughtfully, and thinking about violence in counter-cultural ways.
Jes Stoltzfus Buller
Stoltzfus Buller is the Peace Education coordinator with Mennonite Central Committee. She is committed to peacebuilding among individuals and communities and believes that learning to communicate with one another, even though it can be messy and time consuming, is essential to peacebuilding work.
Anne Meyer Byler
Meyer Byler has been involved with the Victim and Offender Reconciliation Program, interracial programs/circles; the annotated book database for the Mennonite Peace and Justice Support Network website (MPJSN), the "Conflict and YOUth" interactive tool for the MPJSN Peace Factory, and Transitional Recovery Coaching for those who have been previously incarcerated, along with librarianship and proofreading work.
Max Lewis
Lewis is very active in his Catholic parish and is a grateful Associate of the Congregation of the Sisters of St. Joseph of Peace but his passionate studies are in Anabaptism. He was a conscientious objector in the Vietnam era, or, to quote David Gee, he remains a conscientious affirmer, of the infinite value of each human. When Jesus tells us to love our enemies, he understands that to include not killing them.
Mike Martin
Martin is the founder and executive director of RAWtools. A former youth and young adult pastor at Beth-El Mennonite Church, Martin is licensed for specialized ministry for the work of RAWtools by Mountain States Mennonite Conference of Mennonite Church USA. He has a BA in Biblical studies.
Mícheál McEvoy
McEvoy is a former Marine Corps Infantryman (1977-1991) who became a conscientious objector. He joined the Mennonite Church in 2001 (Austin Mennonite, Austin, Texas). He is retired and lives with his wife, Karen, in a 600 sq foot off grid house on 15 wooded acres in Northern Minnesota and attends Cloverdale Mennonite Church in Nashwauk, Minnesota.
Titus Peachey
Peachey served as the co-director of Programs for Mennonite Central Committee (MCC) in Laos, including helping to establish a program to clear millions of unexploded U.S. bombs. He served as co-director of Peace and Justice Ministries (1988-1996) and then as coordinator for Peace Education for MCC (1996-2016). He serves as a counselor for the GI Rights Hotline and promotes conscientious objection to war and war taxes.
Joe Roos
Roos was co-founder of Sojourners magazine and is a retired Mennonite pastor. He currently serves as chair of the Mennonite Palestine Israel Network (MennoPIN) and co-chair of the Friends of Sabeel North America (FOSNA).
Fred Suter
Suter was raised Mennonite and still struggled trying to answer the Selective Service questions for those claiming conscientious objection to participation in war. He served as a Paxman in the Democratic Republic of the Congo and developed a real interest in water projects for African villages. Fred spent 15 years in math education and educational publishing. He lives with his wife, Marlene, in Westerville, Ohio.

Marlin Yoder
Yoder grew up in the Mennonite church in Iowa, graduated from Eastern Mennonite College and served one term with Mennonite Central Committee with his family. He has spent most of his adult life working for non-profits and churches. Marlin is married with one son.
---
For further information
a primer on military enlistment for pastors, youth counselors and mentors, by Titus Peachey.
a Learn, Pray, Join initiative by Mennonite Church USA.
Confession of Faith in a Mennonite Perspective,.