originally published by Goshen College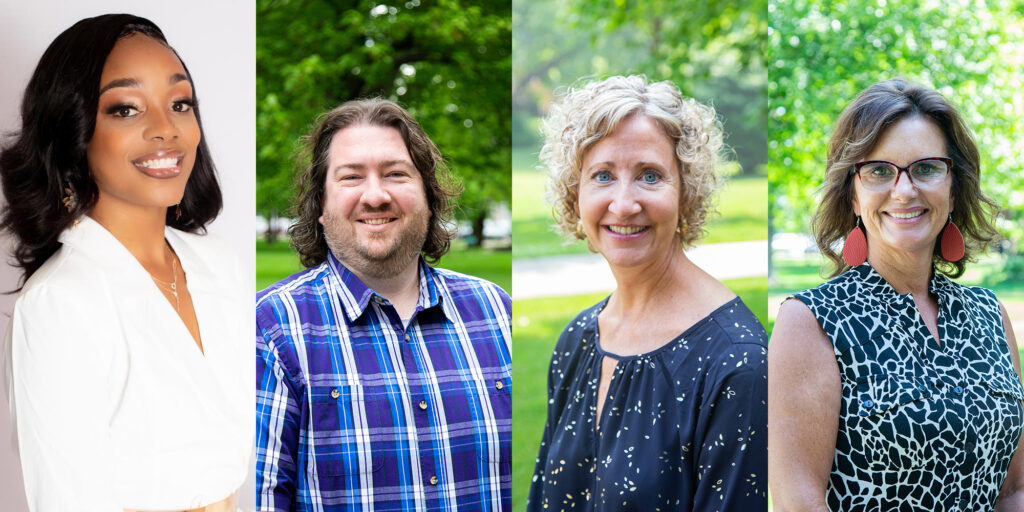 Goshen College recently announced the hire of four new campus leaders: Aja Ellington, director of diversity, equity and inclusion; Jeshua Franklin, executive director of the Music Center; Jen Shenk, campus pastor; and Heather Zile, director of admissions.
Ellington, Franklin and Zile began their new roles in May. Shenk will begin August 1, after serving for several months as interim campus pastor.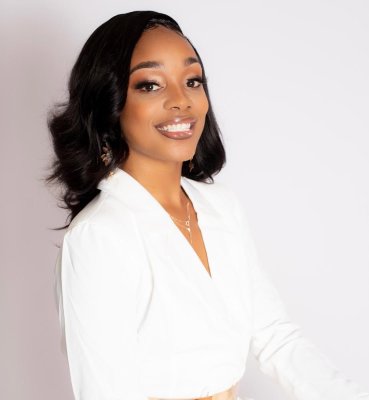 Aja Ellington, director of diversity, equity and inclusion
Prior to this role, Ellington led equitable and inclusion efforts at community colleges and organizations in the South Bend/Elkhart area. She is also the founder and CEO of Free Your Wings Youth Mentoring, Inc., a local non-profit striving to break the barriers restricting the success and growth of youth and families living in poverty.
She has received numerous awards, including being named to the South Bend Regional Chamber of Commerce Michiana 40 under 40, the South Bend Empowerment Zone Excellence and Service Award, the City of South Bend Obama Award and Indiana University Distinguished Alumni of the Year.
"Aja has already proven herself to be a capable and creative leader who will impact our campus in great ways," said Liz Andes, assistant dean of students. "I am excited about Aja's commitment to learning from students and working alongside them to further the work of diversity, equity and inclusion."
Ellington received a bachelor's degree from Indiana University in 2018 and a Master of Social Work degree from Indiana University in 2021.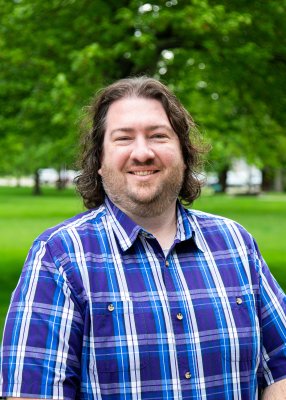 Jeshua Franklin, executive director of the Music Center
Before coming to Goshen, Franklin previously served as a visiting assistant professor of music at Indiana University South Bend. Franklin has taught choral conducting, music education and private lessons at several other universities and colleges across the country including the University of Notre Dame, Bethel University and Lincoln Trail College. While at Bethel he also served as the chair of the music department.
Outside of teaching, Franklin is also the artistic director for Musical Arts Indiana, based in South Bend and music coordinator at Kern Road Mennonite Church.
"We are pleased to have Jeshua Franklin, DMA join us as the new executive director for the music center," said Ann Vendrely, vice president for academic affairs and academic dean. "He has extensive experience as a faculty member, conductor, and administrator as well as a strong commitment to the importance of performing arts and their role in bringing the community together"
Franklin received a bachelor degree with a music performance major from Bethel University in 2004, a master's degree in choral conducting from Bowling Green State University in 2006 and a doctorate in choral conducting from the University of Washington in 2016.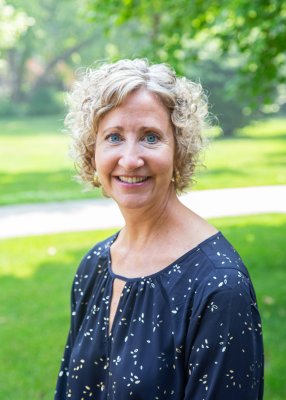 Jen Shenk, campus pastor
Shenk is an ordained minister who recently served for four years as pastor of young adults and worship at Kern Road Mennonite Church in South Bend. She has also frequently led worship workshops, training and equipping worship and song leaders in congregational settings throughout the country with Mennonite Church USA. Prior to her work in ministry, Shenk was a teacher at Jefferson Elementary School in Goshen. [Shenk is also a graduate of Bethany Christian Schools, Goshen.]
Shenk was named interim campus pastor earlier this year, and will now officially assume the role at the beginning of the upcoming school year.
"Our student life team is excited about welcoming Jen to the campus pastor role," said Gilberto Perez Jr., vice president for student life and dean of students. "Jen's past experience as a pastor to young adults will allow her to engage in ways that are meaningful and supportive to our students."
Shenk began her college career at Hesston College but transferred to Goshen where she received her bachelor's degree with a major in elementary education in 1995. She is currently working towards a Master of Arts in Christian Formation degree at Anabaptist Mennonite Biblical Seminary in Elkhart.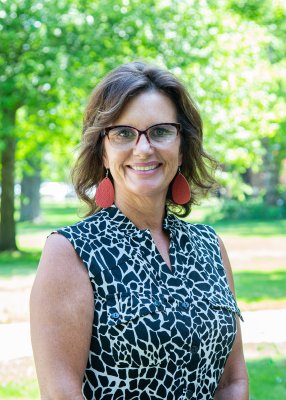 Heather Zile, director of admissions
Zile has been the director of admissions and educational partnerships at Southwestern Michigan College since 2018. Prior to that role, she served on the teaching faculty and as the program director of early childhood development at Southwestern Michigan College and as the early childhood director at Lewis Cass Intermediate School District. Zile has also spent time in Monterrey, Mexico, serving as a missionary for a number of years and speaks Spanish fluently.
"We are excited to welcome Heather to the admissions team," said Steve Wolma, vice president for enrollment management. "She is warm and personable, drawn to our mission and vision, data-driven and committed to strong collaboration. Her experience as a leader and manager as well as her knowledge of new student recruitment position her well to make a positive impact at Goshen College."
Zile received a bachelor's degree with a major in psychology from Western Michigan University and a master's degree in early childhood education and administration from Walden University.

Goshen College is a nationally-ranked college in Indiana; renowned for its purposeful and integrated curriculum, its distinctive hands-on, real-world educational opportunities, and its commitment to creating positive change in the world. Located in the city of Goshen, the college's 135-acre tree-filled campus is home to about 900 students, including more than 45% that identify as students of color or from countries outside of the U.S. It offers over 65 undergraduate areas of study; as well as best-in-class graduate programs in nursing, business administration, and environmental education. Named the #1 Bachelor's College in Indiana by Washington Monthly and listed among Princeton Review's Greenest Colleges, Goshen prides itself on providing an integrated and multifaceted education that connects arts with sciences, and foundation with practice — exposing students to multiple perspectives and encouraging them to think deeply and live purposefully. With 92% of graduates entering their careers, service work or pursuing further education within a year of completion, Goshen students graduate prepared to thrive in their lives and careers; and to make meaningful and measurable impacts on their communities and their relationships with others.