by Emily Hunsberger, originally published by Anabaptist Disabilities Network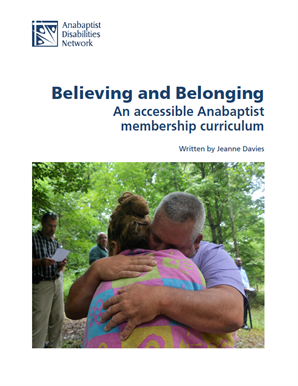 Anabaptist Disabilities Network has published "Believing and Belonging: An Accessible Anabaptist Membership Curriculum" for youth and adults with intellectual disabilities. Written by Jeanne Davies, Executive Director, this curriculum fills the increasing need for curriculum written specifically for youth and adults with intellectual disabilities. Congregations who seek to include people with disabilities in their faith communities can use this curriculum to welcome those with intellectual disabilities into full membership in the Body of Christ.
This curriculum has 36 lessons covering God's first people, the story of Jesus, the story of the Early Church, Anabaptist beliefs and practices, and a discussion of baptism and membership. Each story features a captivating illustration by Dona Park or real-life photos that assist in understanding. Lessons also involve a "do" portion, with action-items that provide a learning through doing approach. "Believing and Belonging" is designed as a year-long preparation for a decision about baptism and church membership. The Teacher's Edition includes tips and insights for teaching, as well as a guide for discerning next steps if the ability to choose baptism seems unclear. Books are available for purchase on BrethrenPress.com.
When MC USA passed the Accessibility Resolution in summer 2022, Mennonite church leaders were prompted to examine their congregation's inclusivity. "Believing and Belonging" is a resource for baptism and membership for an often-overlooked demographic of the Anabaptist community.
"Thanks to Anabaptist Disabilities Network, churches now have an accessible membership curriculum to welcome persons with intellectual disabilities into fellowship!" says Joan Daggett, MAT, project director for Menno Media's Shine: Living God's Light. "Faithfully Anabaptist, the curriculum focuses on creating a loving community where people with disabilities are welcomed and their gifts honored. With simple but powerful words and stunning illustrations, the Bible stories will engage students of all ages and levels of understanding. This curriculum will help churches welcome people with disabilities, fully visible and with voice, into full fellowship in the body of Christ. What a gift!"
Church of the Brethren and other Anabaptist denominations will find the curriculum vital, as well. Keith Dow, PhD, and manager of organizational and spiritual life with Christian Horizons states: "It is all-too rare that denominations, churches, and faith traditions provide resources that are easily understood and engaging. It is even rarer that these resources are created from the ground up to be meaningful for people with intellectual and developmental disabilities without coming across as reductive or juvenile. 'Believing and Belonging' is an accessible Anabaptist membership curriculum that manages to be age-appropriate, informative, and engaging for everybody. Between the captivating graphics, robust theology, and opportunities for further engagement and follow-up, I'm thrilled to recommend this resource not only for those who come from my own Anabaptist tradition, and not only for people with intellectual or developmental disabilities, but for anyone who is looking to learn about and follow the way of Jesus."
Example illustrations, sample pages, and reviews of the curriculum can be found on ADN's resources page.
Believing and Belonging is available for purchase at BrethrenPress.com.
Anabaptist Disabilities Network (ADN) is a small organization located in Elkhart, IN, which serves the Anabaptist community in North America. ADN connects and supports people who have disabilities, their families, and faith communities to create a culture of belonging for everybody.