By Annette Brill Bergstresser. Originally published by Anabaptist Mennonite Biblical Seminary
ELKHART, Indiana (Anabaptist Mennonite Biblical Seminary) — In August, Anabaptist Mennonite Biblical Seminary (AMBS) in Elkhart, Indiana, is launching a new Practical Leadership Training (PLT) program to help pastors, lay leaders, community leaders and leaders of nonprofit organizations increase their capacity to provide effective Anabaptist leadership in a variety of settings.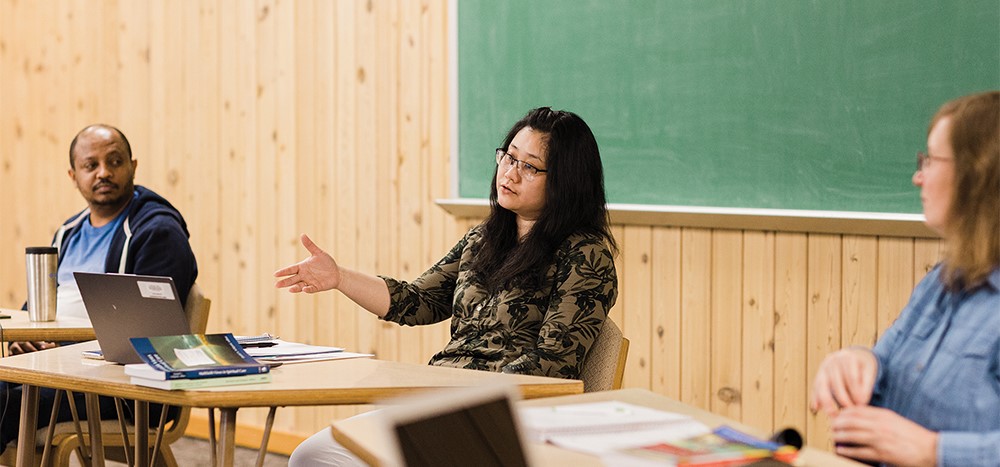 The program grew out of a listening process with church leaders in 2021, in which seminary leaders asked, "What is the most meaningful thing that AMBS can do to support current and future leaders for the church?" Many leaders shared that while seminary had prepared them well for Bible study, preaching and pastoral care, they needed practical leadership skills to meet challenges resulting from the pandemic, polarization, shifting church commitments and an unpredictable future.
In response, AMBS designed a program consisting of modules focusing on four areas: administration, leadership, contextual engagement and well-being.
"We're hearing from leaders across the church that formation in practical skills in these four areas is most needed in our time and will be very beneficial for leaders' groundwork," said Luis Tapia Rubio, MDiv, who directs the new program.
"It's often the case that the way we learn leadership skills is by imitating others and by doing the work, testing what works and what doesn't — that is, by learning from our mistakes," he said. "This program can help leaders avoid many of the frustrations they experience in that learning process. Training and empowering leaders from the beginning is a better way to go."
Tapia Rubio has been drawing on his experiences in pastoral ministry, administration, research and teaching in Chile, Ecuador and the U.S. to develop and implement the new modules. He's working in consultation with an external advisory team of organizational, nonprofit, church, mission and business leaders.
The modules will be offered in a range of formats: in-person seminars or full-day leadership clinics; one-session webinars; four-session online workshops; or six-week synchronous online short courses. Participants can select the modules that are best suited to their interests and needs, and program leaders will adjust the offerings along the way based on what they hear from participants, congregations and organizations.
"It's been energizing to me to know that these modules will benefit not only the participants but also the many people in their organizations and churches who need well-trained leaders and pastors to deal with the challenges we are all facing," Tapia Rubio said.
"AMBS wants to serve our leaders and pastors — addressing their real needs — and we welcome feedback about current leadership challenges and the modules that are needed," he added.
David Boshart, PhD, AMBS President, noted that while the PLT modules grew out of conversations with church leaders, the leadership education they offer can be applied both within and beyond the church.
"In developing this program, we're finding that leaders in every sector of society are asking for the same leadership skills to meet the same basic challenges," he said. "The leadership education that AMBS has to offer is not just for pastors!"
Modules to be offered in 2023
Embracing Your Leadership Identity | In-person seminar: Aug. 5
Liderazgo que edifica | Four-session online workshop (Spanish): Sept. 5, 12, 19, 26
Leadership Practices for Spiritual Vitality | Four-session online workshop: Sept. 7, 14, 21, 28
Guide Your Congregation through Polarization | Webinar: Sept. 20
Practicing Resilience in Response to Trauma | In-person seminar: Sept. 29
Leading Congregations in Transition | Online synchronous short course: Oct. 3, 10, 17, 24; Nov. 7
Intercultural Inclusion: From Symbolic to Shared Power | Four-session online workshop: Oct. 4, 11, 18, 25
Peacemaking through Curious Dialogue | Webinar: Oct. 26
Practices and Principles for Effective Boards | Four-session online workshop: Nov. 1, 8, 15, 22
Creating a Healthy Congregational Culture | Webinar: Nov. 29
Located in Elkhart, Indiana, on ancestral land of the Potawatomi and Miami peoples, Anabaptist Mennonite Biblical Seminary is a learning community with an Anabaptist vision, offering theological education for learners both on campus and at a distance as well as a wide array of lifelong learning programs — all with the goal of educating followers of Jesus Christ to be leaders for God's reconciling mission in the world. ambs.edu