originally published by Goshen College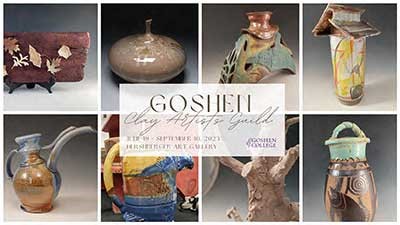 Art Exhibit: Goshen Clay Artists Guild
Reception Date and Time: Sunday, September 10 at 2 p.m.
Location: Hershberger Art Gallery, Music Center
Cost: Free and open to the public
Several members of the Goshen Clay Artists Guild will be showcasing their work in the newest exhibit in the college's Hershberger Art Gallery, inside the Music Center. There will be a closing reception on Sunday, September 10 at 2 p.m.
Artists featured include:
Bruce Bishop '80
Cynthia Cooper
Fred Driver '75
Melanie Helmuth '15
Eric Kaufmann '96
Jerry Lapp '68
Ben Setiawan '93
Bob Smoker '77
The Hershberger Art Gallery is located inside the Goshen College Music Center. The Gallery is open on weekdays from 9 a.m. to 4:30 p.m. during the summer (June – August). During the academic year, it is open from 9 a.m. to 4:30 p.m. on weekdays and from 2 to 4 p.m. on weekends. The gallery is closed during academic holidays.