originally published by Lancaster Mennonite School. Photos courtesy of Mennonite Disaster Service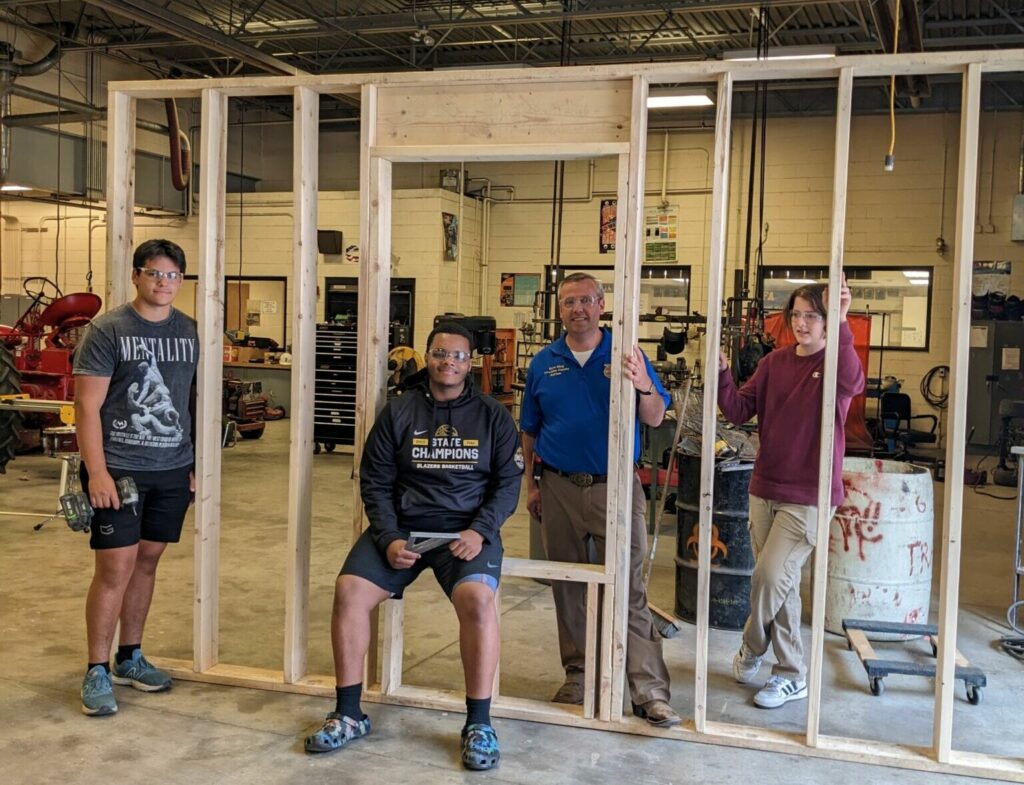 (Lancaster, PA & Crisfield, MD) – Lancaster Mennonite School students spent the semester in their high school Construction Class building walls for a new Mennonite Disaster Service (MDS) house for a person in Crisfield, Maryland who lost their home due to flooding and water damage.
The Mennonite Disaster Service is a volunteer network through which various groups within the Anabaptist tradition assist people affected by disasters in North America. They respond to disasters, rebuild homes, and restore hope by organizing and empowering volunteers in the U.S. and Canada.
LM Agricultural Sciences Teacher, Ryan King, worked with MDS to partner together on this project. MDS provided the materials and the blueprint for the house, and students cut the wood, built and delivered the completed frame to the new house location in Maryland.
"This project is beneficial, because we are spreading the love of Jesus, and we're doing it through action to help others," said LM teacher, Ryan King.
LMH student, O'Sean Quintana shared, "I never thought I'd be making a house for someone to live in, but Mr. King is teaching us along the way. It's connecting, and so if I just keep listening, focusing, and following along, we're going to get this done, no problem."
Mr. King and one of the Construction Class students, Owen Horvath, were on-site this summer helping to set-up the framed walls they'd built at the homeowners house. They joined a team of MDS volunteers and coordinators to start framing out the new house.
"It was very satisfying being on site, seeing everything go up. We got the measurements right, and everything how it was supposed to fit," said LM teacher Ryan King.
"It's been a joy working with MDS. It was really cool to see what I built and to meet the homeowner, and to be able to talk to them. It was really impactful to see my work put to use to help others." said LMH student, Owen Horvath.
"Hands-on learning is a big thing at the school, and with what I teach about working with each other and problem solving," said LM teacher Ryan King. "Seeing students like Owen take initiative and pitch in where needed to help others is really satisfying. This is why I enjoy teaching. I look forward to doing this again with students!"
Another wonderful surprise was that former LMH teacher, Andy Hershey was on-site at the MDS site volunteering his time to construct the house. Mr. King has mentored under Andy Hershey when he first started at LMH, and so it was a joyous full circle experience for our LM family!
See the YouTube video:
Photo Gallery