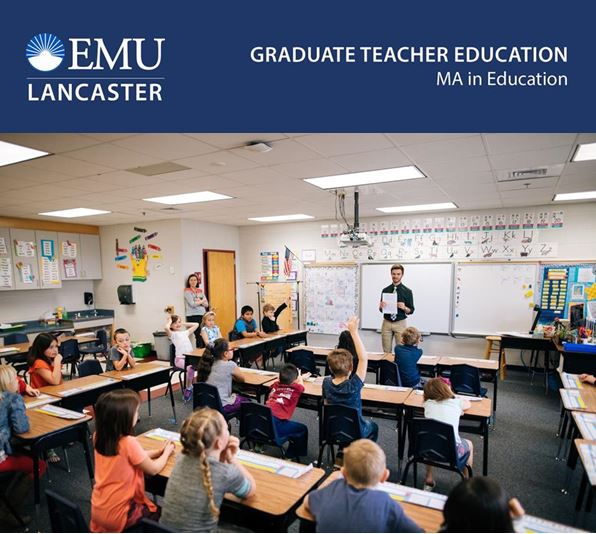 Learn to serve the ELLs in your classroom with an advanced understanding of language acquisition and learning. Learn how even small modifications to lessons and assessments can enhance the comprehension of ELLs in your classroom. 

Why study in an ESL program?
1. To serve students of diverse backgrounds.
2. To enhance the learning and comprehension of ELL students.

Who should complete an ESL program?
1. Educators looking to become a dedicated ESL teacher in their building or district.
2. Classroom teachers with ELLs in their room – even if they do not wish to become an   ESL specialist.

Is the program PDE approved?
The Pennsylvania Department of Education (PDE) recently reapproved the EMU program as part of a periodic "Major Review." This approval ensures that PA teachers will meet the requirements of the PDE ESL Certification upon completion of their program.

How many credits are required?
EMU at Lancaster offers three programmatic tiers:
1. MA in Ed with an ESL concentration – 39 credits total, 24 of these are in the area 
of ESL. Meets the requirements for PDE ESL Certification.
2. ESL Certificate – 16 credits, meets requirements for PDE ESL Certification
3. ESL Advanced Practitioner – 9 credits, provides key courses to support content
area teachers to serve ELLs more effectively.

Get started this Summer with:
Foundations of ESL
In this foundations course, you will gain an understanding of English Language Learners (ELLs), including the psychological, social, cultural, and linguistic aspects of learning a second language. The course covers the processes involved in acquiring a first and second language. It emphasizes the planning, implementation, and management of instruction based on research and best practices. Additionally, the course explores how teachers can provide appropriate instruction in line with the Pennsylvania Academic Standards and Assessment Anchors.
Instructor: Jennifer Kauffman
Dates: July 3 – August 18

Want to learn more? WATCH this video about our program.
Ready to apply? SUBMIT this application to get started. 
Want to speak with someone? EMAIL us here.