by Jolene VonGunten for Mennonite Education Agency
ELKHART, Ind. – The Mennonite Education Agency (MEA) has announced the recipients of the inaugural Scholarship for BIPOC Students. Scholarships were awarded to five students for the 2023-24 academic year.
The MEA Scholarship for BIPOC Students was created to support students who identify as Black, Indigenous, and/or People of Color, who are members or active participants of a Mennonite Church USA (MC USA) congregation, and who are attending or plan to attend a Mennonite college, university, or seminary that is partnered with MEA.
The Scholarship selection committee was impressed with the talents and dedication of the applicants. MEA Executive Director Michael Danner said, "We were looking for BIPOC church leaders, and they showed up! These scholarship recipients are leaders on their campuses and actively involved in their congregations. We are excited to support them in their education!"
The recipients of the 2023 MEA Scholarship for BIPOC Students are (clockwise from top left) Eliza Alemán, Goshen (Ind.) College, $4,000; Josué Coy Dick, Bethel College, North Newton, Kan., $4,000; Olufemi Fatunmbi, Anabaptist Mennonite Biblical Seminary, Elkhart, Ind., $1,000; Hyun Hur, Anabaptist Mennonite Biblical Seminary, Elkhart, Ind., $1,000; and Alicia Maldonado-Zahra, Anabaptist Mennonite Biblical Seminary, Elkhart, Ind., $2,000.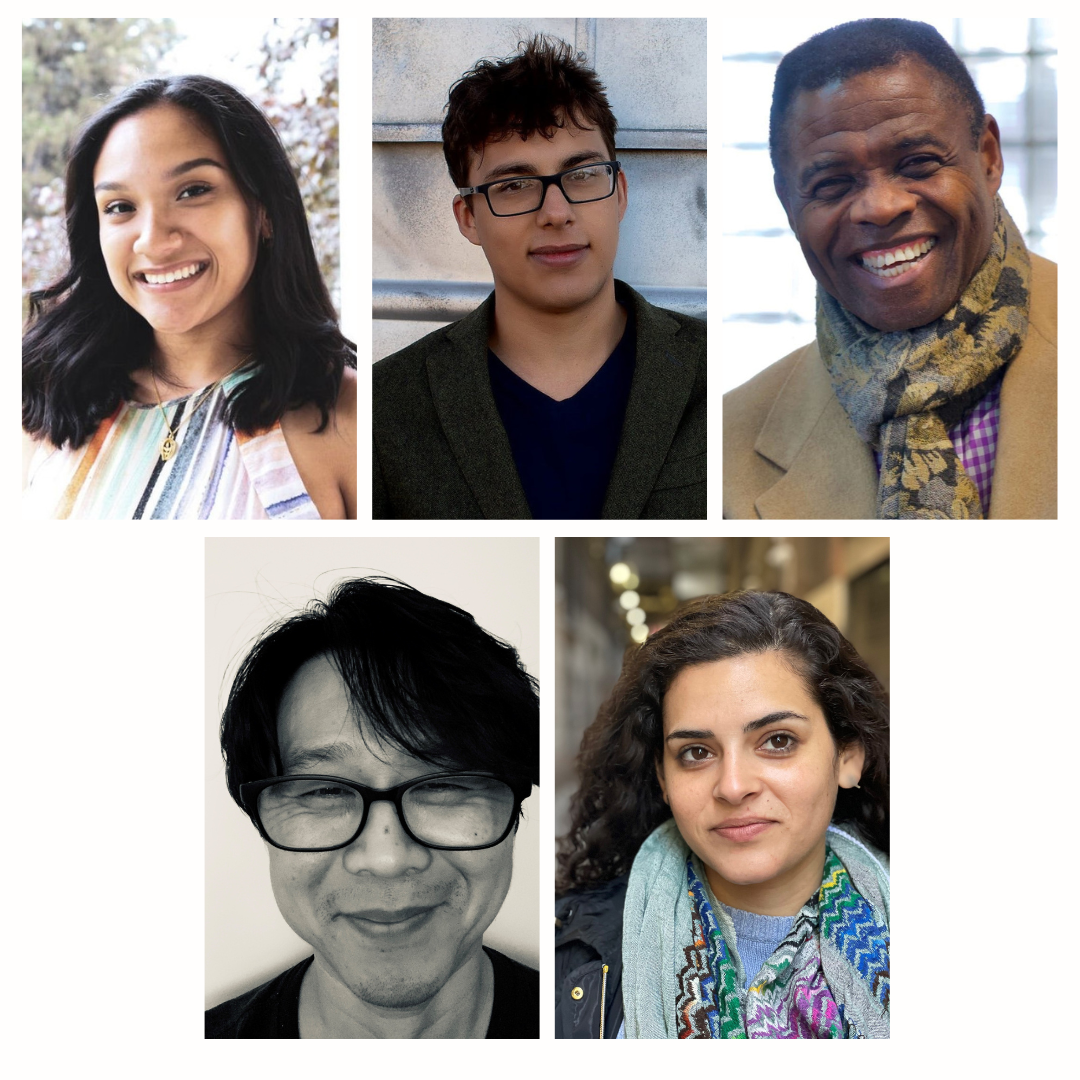 Awardee: Eliza Alemán
Eliza Alemán (top left) is a second-year student at Goshen College, majoring in Sustainability Studies with a double minor in Social Policy and Advocacy and Global Studies. From Rock Island, Ill., Eliza hopes to start a nonprofit organization that provides natural world experiences and education to marginalized communities. She attends College Mennonite Church, Goshen, Ind.
Awardee: Josué Coy Dick
Josué Coy Dick (top middle) was born in Guatemala and grew up in North Newton, Kan. He has roots in the Mennonite community in Kansas and in the Maya Q'eqchi community in Alta Verapaz, Coban, Guatemala. He is a student at Bethel College, Kan., studying Bible and Religion, Peace and Conflict, and Music Performance. He is a member and attendee of Shalom Mennonite Church in Newton, Kan. He feels called to serve others and live alongside the marginalized.
Awardee: Olufemi Fatunmbi
Olufemi "Femi" Fatunmbi (top right) is a senior pastor of Royal Dominion International Church, a multi-cultural Mennonite congregation in the Pacific Southwest Mennonite Conference, located in south central Los Angeles, Calif. He is a Master of Divinity Chaplaincy student at Anabaptist Mennonite Biblical Seminary, Elkhart, Ind. Femi is married to Rev. Mrs. Folasade Fatunmbi, a co-pastor, and has four children. He has served the conference and the larger church in various capacities. Currently, he serves as a representative of the African, Belizean & Caribbean Mennonite Mission Association (ABC, MMA), a constituency group within the Racial Ethnic Council of MC USA. He also represents ABC, MMA on the Constituency Leadership Council of MC USA.
Awardee: Alicia Maldonado-Zahra
Alicia Maldonado-Zahra (bottom right) is part of the second generation of her Puerto Rican family to be born in the United States. Originally from Fort Myers, Fla., she now resides in South Bend, Ind., with her husband, many animals, and her parents, who are their neighbors. She is a graduate of Hesston (Kan.) College and Eastern Mennonite University, Harrisonburg, Va., and holds bachelor's degrees in Social Work and Global Development. She is currently pursuing a Master of Arts in Theology and Peace from Anabaptist Mennonite Biblical Seminary, Elkhart, Ind. She collaborates with her church community, College Mennonite Church, Goshen, Ind., in leading their youth while also managing her conflict transformation business.
Awardee: Hyun Hur
Hyun Hur (bottom left) is a second year student in the Doctor of Ministry in Leadership program of Anabaptist Mennonite Biblical Seminary, Elkhart, Ind. From Pasadena, Calif., Hyun is an ordained pastor and attends Pasadena Mennonite Church. He is co-director of ReconciliAsian, an Asian peace and reconciliation center in Los Angeles. He also serves on the board of IGNIS Community, an NGO for disabled children and orphans in North Korea. He hopes to focus his vocation on exposing the truth that the ministry of reconciliation is the core of Jesus' call to his followers, educating Korean immigrants to live out their call to be peacemakers in the local churches and encouraging and equipping participants to become involved in local communities with other ethnic groups as agents of peace. Ultimately, he hopes to extend the vision of reconciliation in the Korean peninsula to Korean immigrants and second generations.
MEA Executive Director Danner offered his congratulations and encouragement to the award winners. "I'm a strong believer in the high-quality Anabaptist education offered by Anabaptist Mennonite Biblical Seminary, Bethel College, Bluffton University, Eastern Mennonite University and Seminary, Goshen College, and Hesston College," he said. "We hope this scholarship makes that education more accessible to some BIPOC students."
Scholarship applications for the 2024-25 academic year are due April 1, 2024. More information can be found at www.mennoniteeducation.org/schools/mea-scholarship-for-bipoc-students. Tax-deductible contributions to the scholarship can be made online at https://www.mennoniteeducation.org and click on the Donate tab. Checks can be sent to Mennonite Education Agency at 3145 Benham Ave., Suite 2, Elkhart, IN 46517, memo: BIPCO Scholarship.
Mennonite Education Agency is the education agency of Mennonite Church USA, headquartered in Elkhart, Ind. MEA partners with Anabaptist Mennonite educational institutions and programs affiliated with MC USA to strengthen the church through education.
###