originally published by Central Christian School, Kidron, Ohio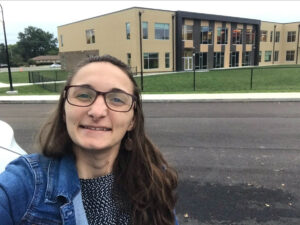 Carrie Hamsher, Class of CCS 2018 and Bethel University [Mishawaka, Ind.] alumna, is in her second year of teaching at Finneytown Elementary School in Cincinnati, Ohio.  Her first year of teaching was as a K-2 Intervention Specialist.  This year, she is a third grade classroom teacher. 
"The relationships are what keep me going and what inspired me to go into education. Every day I am working at finding new ways of connecting with the students and inspiring lifelong learning. Central Christian is centered on relationship building and I was able to have many opportunities to grow in community building throughout elementary, middle school, and high school. Many teachers at Central work hard to bring their best every day for their students and are my role models as I continue my teaching journey," Carrie said. 
She said that one of the most influential people at Central for her was Elaine Miller, CCS Middle School Science Teacher, who retired in 2022. "Not only did she show her commitment to putting students and their education first while I was there, but she also continued to be encouraging when I was no longer in her classes or at Central," she said. Carrie exemplifies a Central Christian alumni who is making an impact on the next generation by serving as a school teacher. We are proud that she is using the wisdom, understanding, and knowledge she gained at CCS to inspire lifelong learners in her community.