originally published by Bangor Daily News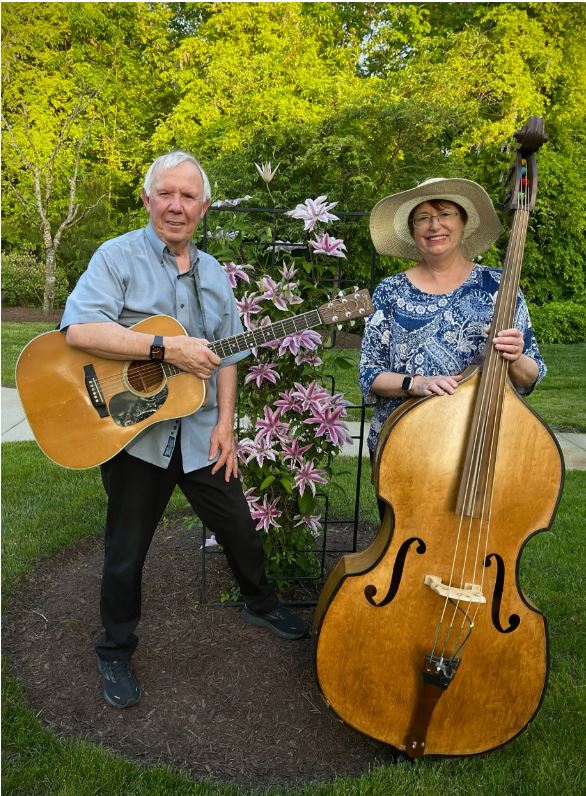 BELFAST, MAINE – Mark your calendar for an evening with authentic masters of Appalachian Music mellow folk, sizzling bluegrass, and sultry swing. Native Belfast resident Martha Hills and her husband Donald DePoy, touring as Me & Martha will be performing a free concert in the Abbott Room at the Belfast Free Library on Thursday, Aug. 10 from 7 to 8:30 p.m.
As always, this will be an exciting homecoming! They first began performing together in Belfast in 2003. These two are celebrated touring entertainers and have earned a solid international reputation as authentic Appalachian musicians. From Maine to Florida, concert halls to street busking, Don and Martha captivate audiences with a crowd-matched mix of folk, rural swing, bluegrass, classic country, and jazz standards. Their ready-to-go song bag has over 10 hours of amazing vocals, sweet harmonies with hot pickin' instrumental virtuosity, wrapped with spontaneous, often amusing banter. They leave listeners lighthearted with clarity of what really matters in life.
Me & Martha were awarded 2022 and 2023 Top Live Wedding Band by Virginia Living Magazine. They are members of America's Old-Time Country Music Hall of Fame and on the traditional artist rosters of Young Audiences of Virginia and the Virginia Commission for the Arts.
Martha fronts the duo, sings and plays the upright bass. She is a professional early childhood educator and taught in the preparatory music program at Eastern Mennonite University in Harrisonburg, Virginia. Originally from Timberville, Virginia, Don was born into a musical family and is a fifth generation mountain music maker. In 1940, capturing the American experience, Alan Lomax, recorded for the Library of Congress several of his family members and friends. Don holds a PhD specializing in America music and currently teaches bluegrass instruments in the music department at Eastern Mennonite University.
The concert is free and open to the public. Bring the entire family to hear Me & Martha's entertaining, often funny and surely educational presentation of an authentic uniquely American music.
The Belfast Free Library is at 106 High Street Doors open at 6:30 p.m., and the concert starts at 7 p.m. Call the Belfast Free Library for more information at 207-338-3884.