Gregg Dick is also an '87 alum of Bethel College.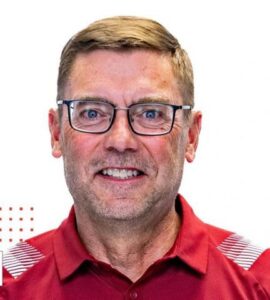 Originally published by Bethel College
Gregg Dick, head coach of men's golf as well as college controller, has been named the 2022-23 KCAC Coach of Character, the conference office announced June 29.
All KCAC Champions of Character awards are presented by IMA Financial Group and Dissinger Reed.
According to his nominators, Dick both embodies the Champions of Character program's five core values and instills them in his teams, producing an "infectious" attitude of service and leadership that has spread from men's golf to the rest of Bethel athletics.
Said Director of Athletics Tony Hoops, "The standards set for the Bethel golf program are a direct replication of who Gregg is as a person. The standards he has for his student-athletes are the same standards he lives his life by.
"His players know it, respect it, and respond appropriately to it. When a golfer signs to play golf for Gregg Dick, they are signing up for much more than just a golf opportunity. They are signing up for a life-giving, transformational opportunity."
Hoops went on to say that end-of-the-season evaluation comments from players back up his own observations.
Comments he has seen include "Gregg is my mentor in all areas of life," and "He is one of my biggest supporters. He is there whenever I need him and is always willing to go the extra mile for me. He always believes in me, even when I don't, and he can easily brighten my day," Hoops said.
Connor Mickens, who played golf for Dick at Bethel and later worked with him as an assistant coach, said, "Coach Dick treats his players as though they are his family.
"This means instilling the core values he possesses into his players as well as providing them with the support needed to succeed in life.
"By not only possessing the core values of character, but also passing them on to his players, Coach Dick is the embodiment of what it means to be a great leader, coach and respectful person."
In April, Bethel men's golf squad was named KCAC Team of Character for the sport. On the course, the Threshers finished ninth at the KCAC Men's Golf Championship.
"I am honored and humbled to receive this award, knowing how many great quality coaches there are in the KCAC," Dick said.
"I am thankful that Bethel College values service and character building and allows me to create unique opportunities for my team to serve in our community. I have been very blessed with players who were willing to give of their time, talents and energy to help make the world a better place."
"Gregg exemplifies a true Champion of Character coach, every day," Hoops said. "He sets the character standard for what we desire from all of our coaches.
"Gregg not only promotes the program to his teams each year but, more importantly, his own character models the standards every day. Gregg is a true advocate of the program and well deserving of this award. He represents Bethel College, the KCAC and the NAIA with extreme class while graduating character-driven student-athletes."
"Gregg has demonstrated an unwavering commitment to Bethel College and the student-athletes who are members of the men's golf team," added Bethel President Jon C. Gering. "It is not surprising that he received the KCAC Coach of Character award."
Bethel is a four-year liberal arts college founded in 1887 and is the oldest Mennonite college in North America. Known for academic excellence, Bethel ranks at #14 in the Washington Monthly list of "Best Bachelor's Colleges," and #24 in the U.S. News & World Report rankings of "Best Regional Colleges Midwest," both for 2022-23. Bethel was the first Kansas college or university to be named a Truth, Racial Healing and Transformation (TRHT) Campus Center, in 2019. For more information, see www.bethelks.edu
In sports, Bethel competes in the 13-member Kansas Collegiate Athletic Conference and the NAIA.