by Cade Fisher, originally published by Mennonite Mission Network
Cade Fisher is a Mennonite Voluntary Service (MVS) participant with the Tucson, Arizona, unit. This article was adapted from a blog entry on his website. MVS is a program of Mennonite Mission Network. Apply now for the 2023-24 MVS term, and join the neighborhood!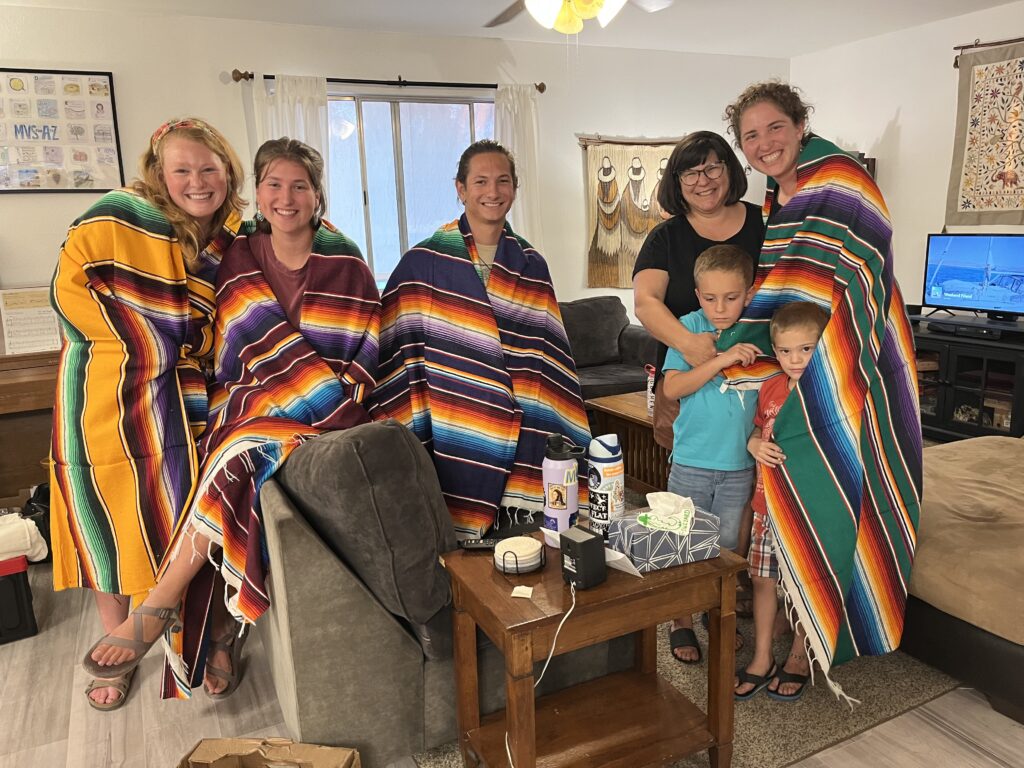 On Sunday, my housemates and I shared reflections from our year with our Shalom Mennonite Fellowship community. Below is a draft of my reflection. Although it's not a word-for-word script of what I shared in person, it provides some of the main ideas that I shared.
Being in a place is important.
When I arrived in Tucson, I had never moved away from home to really live somewhere else. Yes, I was in Ecuador last summer, living with host families while I was on Goshen College's study-service term, but I was there with my partner and other friends. I knew that it would only be three months, and I was only one time zone away from the rest of my family. MVS was a new experience. Tucson was a completely different part of the country and 2-3 time zones away from all the people I knew. My housemates were near-strangers, and I was starting a new job.
When I think back now, it's impressive how quickly some of that fear melted away. Sure, I had moments where I was homesick, but overall, I was able to build routines and feel settled here. That's thanks to my housemates, the MVS support committee, my co-workers, and Shalom Mennonite Fellowship. It didn't happen without some effort. We spent time together. We learned about each other and had shared experiences from border delegation, retreats, game nights, Sunday mornings, house meetings, and many, many meals together. We grew closer together by being together.
I experienced the power of being in my work, too. When I speak with people who are migrating and their family members on the phone and in person, they're grateful to have someone listening to their stories who cares and wants to provide them with help. While I may not always have the most hopeful news for them, I can at least witness their experiences.
But there's tension for me in being with people who are migrating. Hearing their stories can be hard and it's not always something I want to do. One of the main reasons why they're calling me and I'm not calling them is because of where we were born, something neither of us had control over. When I speak with people born in the 1970s I think, "What would my parents have done in this situation?" When I speak to people born in 2000, I think, "What would I do in their situation?" When I speak to people born in the early 2000s, I think, "What would my brothers have done in this situation?" I can't answer these questions, but they help me empathize with the people I speak with. This helps me remain calm on the phone and gracious when they ask repeatedly what they can do to fix their situation and I have to tell them that our system doesn't provide them pathways.
Being present in a place also means that I'm not present somewhere else. This year meant that I was far away from my partner and family. Yet when they came out to visit, I had a new place — a new home — to share with them. They got to experience a small part of my year. I noticed this when we would return to the unit house from a trip, too. There was a sense of being home. This was the place that I returned to at the end of every day and every trip. But there was also a feeling of missing home, where my friends and family are.
Sometimes my brain was not always in the present. At the beginning of the year, I was wrapping up a capstone course from my study-service term in Ecuador. On a weekly basis, I was spending significant energy thinking about the past. As the year went on, it became easier, and necessary, to plan for the future, both in Tucson and for the next phase of my life. I kept myself grounded in the moment by noticing the little things around me. The mountains on my bike ride to work. The flowers on the patio where I would eat my lunch. The food that my housemates had prepared.
Now I'm preparing to leave and Tucson feels like one of my homes. The southwest, while still hot, is not as scary as I thought. My housemates and I are close friends, and while I won't be working at the Florence Project next year, immigration law now feels like a serious career option. While I still have a few more weeks before I leave, and there are good-byes to be said and plans to be made, it remains important to be present in all ways.