by Rhys McClelland, originally published by Daily News-Record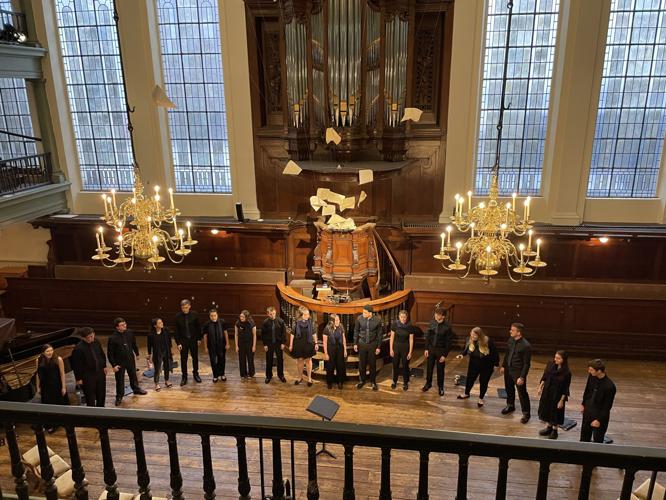 Seventeen students of the Eastern Mennonite University Chamber Singers have just returned home from an intensive two-week tour of European cities, sharing a message of unity and peace through a varied program of song.
Starting May 9 in Amsterdam and traveling through the Netherlands, France, and Germany, the tour, titled "Local and Global: Songs of Peace and Justice," saw the EMU Chamber Singers presenting a program that contained both sacred and secular pieces, in a range of spaces from Mennonite churches, cathedrals and even impromptu outdoor performances.
The tour created unique opportunities for students to experience singing in old European churches in historically Mennonite areas, including a visit to Friesland in the Netherlands, the birthplace of Menno Simons himself. The musical history embedded in the tour was also a significant experience for the students, allowing them to explore the music halls of Dresden and Munich, as well as singing in Leipzig where Bach worked. Singing in these spaces offered the students the experience of a quality of natural acoustic not experienced often by singers.
Personal connections with people and heritage were also an important aspect of the tour, with students often staying with host families and even connecting with their own family lineage by visiting historic Mennonite locations where their ancestors originated.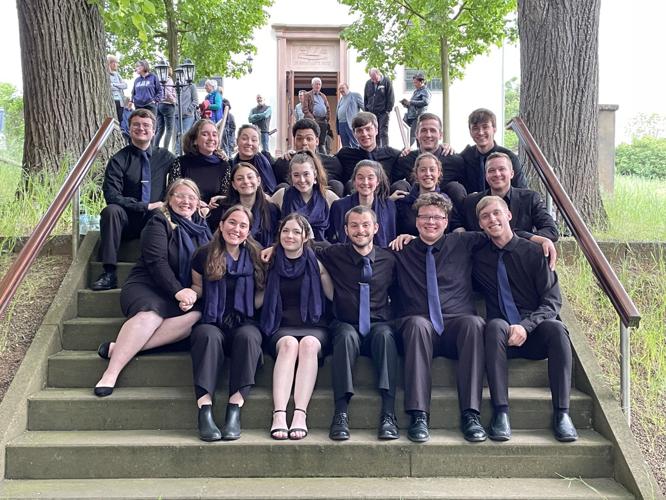 The tour was facilitated, programmed, and directed by assistant professor of Eastern Mennonite University Orchestra and Choirs Benjamin Bergey who also serves as assistant conductor for the Shenandoah Valley Bach Festival and advisor of the new music and peace-building major at EMU.
"For me, it was a wonderful experience. I have been to many of these places before on various tours and travels of my own, so it was a joy to reconnect, explore new things, and lead a group through these amazing historic and modern locations full of hospitality and love," Bergey said.
While the experience of singing in such beautifully constructed and historic locations was expected, it was the unexpected moments of the tour that create truly extraordinary memories for this group of young artists.
"Our bike tour guide asked us to sing in an enclosed Munich square because it has great acoustics," said Bergey, who relayed another profound and intimate moment of performance in Germany at a German laundromat. "A French family asked us to sing a song while we were waiting for clothes to wash."
The mission of Eastern Mennonite University to "serve and lead in a global context" was core to the principles of the international tour, something that the chamber singers have not done since singing in Cuba around 20 years ago. Additionally, the university holds in its mission the goal of cross-cultural encounters, which is summed up in another memory from the tour.
"In the town of Witmarsum, Netherlands, we joined two community choirs on three songs," said Bergey. "One of those songs was the 'Prayer for Ukraine.' It was incredible having about 60 voices together of folks we had never met, in a language that none of us spoke, singing a powerful prayer for people just a couple hours away. It was a very moving experience. We sang that prayer a couple other times when there were Ukrainian refugees in the audience, which was impactful for us and deeply meaningful for them."
The powerful connections through music were not just between the chamber singers and the audiences, however. The whole experience of the tour brought the group itself closer together through the music they were performing.
"They appreciated the meaningfulness of the music and connecting with each other so deeply. At our last evening concert, there were many mixed emotions since the tour was coming to an end. One of the songs, which was a song that we had commissioned this semester to be written for us and our music and peace-building major, had become a very special song for us as we are so deeply connected to singing and its role in making this world a better place," said Bergey.
Bergey summarized the power of the tour for students and audiences alike and each profound moment during it as a "big part of my mission in using music-making as a form of building peace and connection with others."