By Jillian Lynch and originally published by Daily News-Record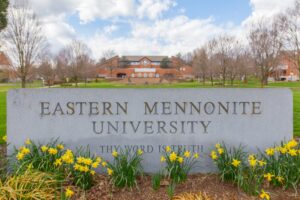 What seems like an "impossible" feat for restaurants, larger universities and other institutions, the small, private Eastern Mennonite University has achieved.
Members of the Interfaith Association of Harrisonburg and Rockingham County scooped up plates of tasty lunch food, including salads, sandwiches and tacos, cups of coffee, spoons and saucers, from the university's dining hall, before its May 4 meeting on campus.
The Interfaith Association of Harrisonburg and Rockingham County held a meeting at EMU's dining hall, which is in the lower level of the university's Northlawn Hall. When lunch was done, students and visitors bussed their own lunches in a tiled corner of the dining hall.
Trays, plates, cups and bowls went onto a small conveyor to be washed. But before that, food scraps are scraped into a compost bin. That's right — a compost bin.
Something so rare deserves attention. How did a university achieve this feat? While large public universities build and build parking lots for more cars on campus — though EMU likely makes developments in these areas too — the university shows its commitment to sustainability in legitimate, simple ways and is teaching its students — and vice versa — to live with sustainability in mind.
And students know how to use the compost bins. For anyone new to the dining hall, all they had to do was look to the students, who reflexively scraped off their plates into the compost bin before placing their dishes on the conveyor, to be washed, before going on their way. Simple.
According to 2019 estimates from Environmental Protection Agency, food retail, food service and residential sectors composted about 5% the food waste they produced, or 3.3 million tons.
Students and volunteers collect 300 – 500 pounds each — day — across campus, according to a page on the university's website. The school also manages five campus gardens providing food and know-how to students and staff. It also recycles, provides sustainable to-go containers and donates extra food to locals in need, its website said. These efforts are thanks to strategic planning committees and documents that prioritized sustainability across the university — something lacking at many other universities.
Kudos to EMU for living the principles it instills in its students — not just using sustainability as a marketing scheme.