Repertoire includes song composed by '12 alum
originally published by Eastern Mennonite University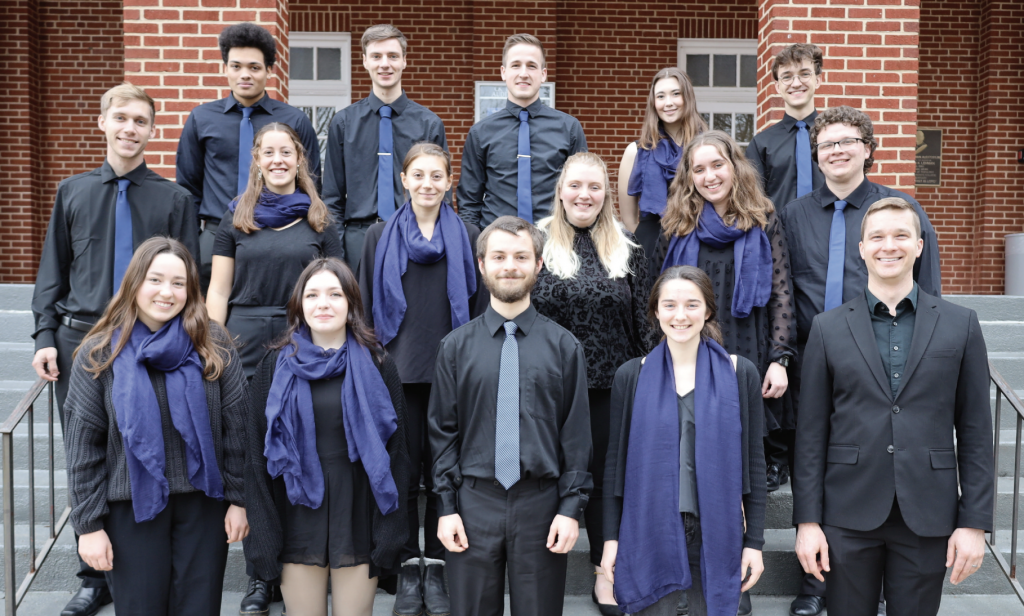 The Eastern Mennonite University Chamber Singers will share their voices with 11 church congregations in Germany, The Netherlands, and the Alsacian portion of France during their 2023 European Tour May 9-21, 2023. The group will perform its spring break tour program "Local and Global: songs of peace and justice," featuring composers and styles from the Shenandoah Valley of Virginia and around the world.
Among the highlights of the trip include singing in—and visiting—two historic cathedrals in Germany: the Thomaskirche in Leipzig, where J.S. Bach worked for many years, and the Frauenkirche in Munich. Students will also have the opportunity to "receive European Mennonite hospitality," as many of the churches will host them for a night.
"I am excited to share this experience with students in these incredible locations and to share our music with these various communities," said Professor Benjamin Bergey, director of the Chamber Singers.
The program includes songs such as "Shenandoah," a classic song about the Shenandoah Valley; "Sing Each Other Home," a piece the Chamber Singers and EMU's music and peacebuilding program commissioned the Harrisonburg-based Walking Roots Band to write; and "Could It Be That God Is Singing," a hymn in the Southern Harmony tradition by Mennonite poet Becca J R Lachman.
Other songs include "A New Leaf" by Bradley Lehman, a local composer and father of choir member Afton Rhodes-Lehman; "Eagles' Wings" by EMU alumnus Sam Kauffman '12; and "Wake Up, My Spirit" by Virginia-based contemporary African American composer Adolphus Hailstork.
Performances are free of charge, and a live offering will be taken to support the choir's travel expenses.
The EMU Chamber Singers is an auditioned touring chamber choir now in its 44th year. The mixed-voice choir is made up of more than 15 EMU students of different ages and majors. The ensemble tours in the U.S. each spring break and will tour abroad every other May starting with this international tour, which is the first of any EMU ensemble since music professor Ken J. Nafziger led the Chamber Singers to Cuba in 2003.
Schedule
May 9, 7:30 p.m.
Doopsgezinde Kerk (Singelkerk) – Amsterdam, Netherlands
May 10, 7:30 p.m.
Doopsgezinde Kerk – Utrecht, Netherlands
May 11, 8 p.m.
Doopsgezinde Kerk – Witmarsum, Netherlands
May 13, 5 p.m.
Thomaskirche – Leipzig, Germany
May 14, 10 a.m.
Evangelische-Mennonitische Freikirche – Dresden, Germany
May 16, 7:30 p.m.
Mennonitengemeinde – Ingolstadt, Germany
May 17, noon
Frauenkirche – Munich, Germany
May 18, 7:30 p.m.
Mennonitengemeinde – Owingen, Germany
May 19, 8:15 p.m.
Eglise Evangelique Mennonite – Ingersheim, France
May 20, 7 p.m.
Mennonitengemeinde – Weierhof, Germany
May 21, 10 a.m.
Mennonitengemeinde – Enkenbach, Germany
Members
The choir includes:
Iris Anderson, Corvallis, Oregon
Reah Clymer, Meridian, Mississippi
Maggie Garber, Broadway, Virginia
Thaddeus Jackson, Harrisonburg, Virginia
Philip Krabill, Elkhart, Indiana
Naomi Kratzer, Goshen, Indiana
Hannah Landes Beck, Linville, Virginia
Hollyn Miller, Lancaster, Pennsylvania
Aaron Moyer, Broadway, Virginia
Jacob Nissley, Canton, Ohio
Canyon Penner, Goshen, Indiana
Afton Rhodes-Lehman, Dayton, Virginia
Sophia Sherrill, Goshen, Indiana; Higashikurume, Tokyo, Japan
Savannah Smith, Key West, Florida
Joshua Stucky, Princeton, New Jersey
Brynn Yoder, Harrisonburg, Virginia
Andrew Zook, Canton, Ohio