Gina Leichty elected as Goshen's first female mayor
by George Mallet, 16 News Now, and Matt Gotsch and available here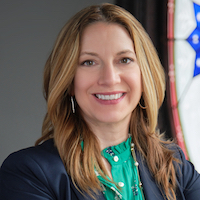 Earlier this year, when then-Mayor Jeremy Stutsman announced he was stepping aside in the middle of his term, nobody saw it coming.
Gina Leichty [Goshen College '95] was hastily installed as interim mayor, but now she is interim no more.
Leichty defeated Republican newcomer Benjamin Rogers to become Goshen's first female mayor. According to the unofficial results, she won with 54% of the vote.