originally published by Bethel College and available here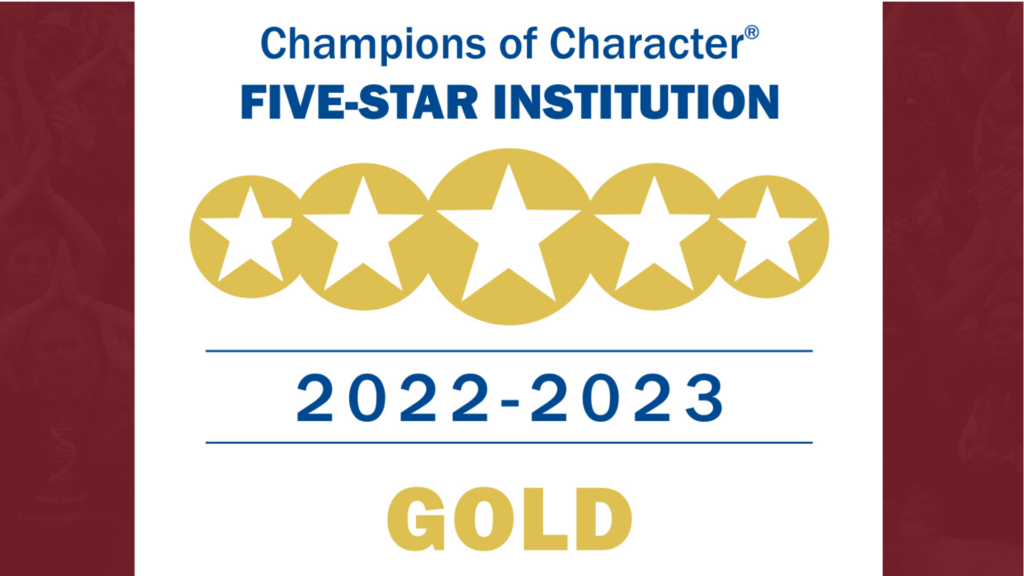 KANSAS CITY, Mo. – The National Association of Intercollegiate Athletics (NAIA) announced its Champions of Character® Five-Star Gold Award winners. Bethel College was named as a Gold Level Champion of Character for the sixth straight season, second longest run in the Kansas Collegiate Athletic Conference (KCAC).
"It is an honor to receive this award once again from the NAIA. To do so for the 6th straight year is difficult," stated Interim Director of Athletics, Collin Loutensock. "Our coaches and student-athletes deserve a ton of credit for leading and playing their sport in a way that we value as an institution and department."

Bethel was one of 62 institutions to earn gold status out of the total 171 schools to be awarded gold, silver, or bronze level status. Bethel College was one of four KCAC institutions to earn a spot in the Gold level.

Ten of the 13 full-time KCAC member institutions received Five-Star distinction, which also makes the KCAC a Champions of Character® Five-Star Conference (with 60% or more schools at Five-Star status).

Bethel College Champions of Character Liaison, Stacy Middleton, oversaw the campus program in which five Bethel College teams this past year were voted to receive the team specific KCAC Team of Character Award. The Threshers also had the KCAC Coach of Character as Gregg Dick earned the award. "Character starts at the top and previous Director of Athletics Tony Hoops did an amazing job of hiring high character coaches which was then reflected in their student-athletes and programs," Middleton stated.

The award is announced at the beginning of the fall of the following school year. Bethel is being recognized for their achievements in the 2022-2023 school year. Through the Champion's of Character® initiative, schools strive to produce character driven athletics programs.

Institutions are measured on a demonstrated commitment to Champions of Character®, earning points in character training, conduct in competition, academic focus, character recognition and character promotion, and based on exceptional student-athlete GPAs and minimal to no ejections during competition throughout the academic year.

Loutensock connected these standards to the Bethel Athletics core values. "Our core values of gratitude, community, competitive greatness and creating 3 Dimensional Coaches/Athletes are reflected in the results of this award," he stated.

The Champions of Character® Scorecard holds 100 possible points to be earned, measures growth in training, promotion, conduct in competition and commitment in five key areas. To be a gold standard school you must score 90 points or more.

"As an athletic department we are extremely proud of what our student-athletes and coaches were able to accomplish both on and off the field this school year. They exemplified and lived out our core values and it shows in earning this award for the sixth straight year," Loutensock said.

See all of the Champions of Character® Five-Star institutions at https://www.naia.org/champions-of-character/five-star-winners-2023

In athletics, Bethel competes within the 13-school Kansas Collegiate Athletic Conference, and the National Association of Intercollegiate Athletics. For more information, see www.bethelthreshers.com.