Written by Ray Glier, originally published by Geezer Jock News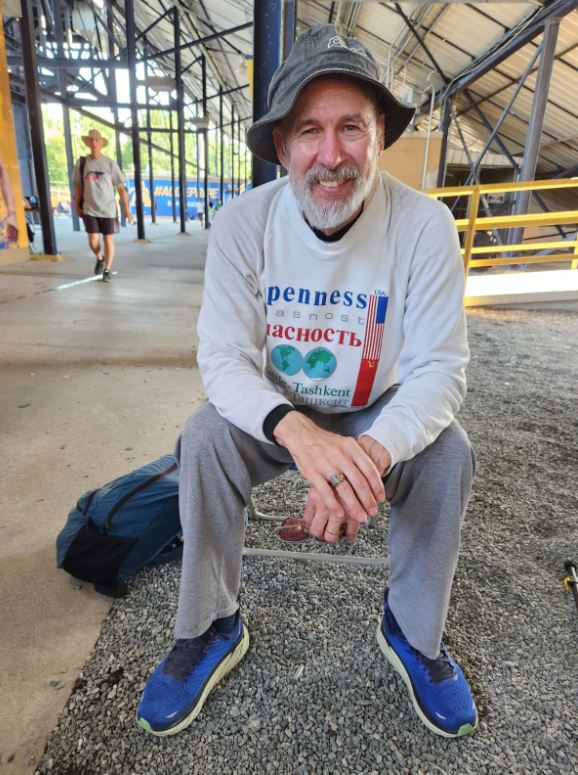 GREENSBORO, N.C.___Dave Ortman [Bethel College] has an absorbing personality. He also has a kindly smile under his floppy hat. He is the guy that cautions you to wear sunscreen and his gray beard adds a look of benevolence.

He chuckles when you mention he doesn't resemble a highly-competitive athlete, a do-gooder who is too nice to trade forearms on the way to the finish line. Then he puts his head down and chuckles some more. It is a "if you only knew" kind of chuckle.

"I've told people I run hurdles," he said. "I'll run over you or through you. I'm not shy. I've been battling the forces of evil trying to ruin the planet for 50 years.
"Really, I'm not shy."

Ortman, 70, who is a retired environmental lawyer, is one heck of a diverse athlete and a competitor. You can't be shy and do the Pentathlon of Long Jump, Javelin, 200 meters, Discus, and 1500, and win gold medals for 35 years in USA Track & Field. You have to have some fortune-hunter to your makeup.

Dave, who lives in Seattle, has plenty of that. He has won national gold medals in six outdoor or indoor pentathlons, 10 gold medals in individual events (indoor and outdoor) and three gold medals and two silver medals in World Masters Athletics championships.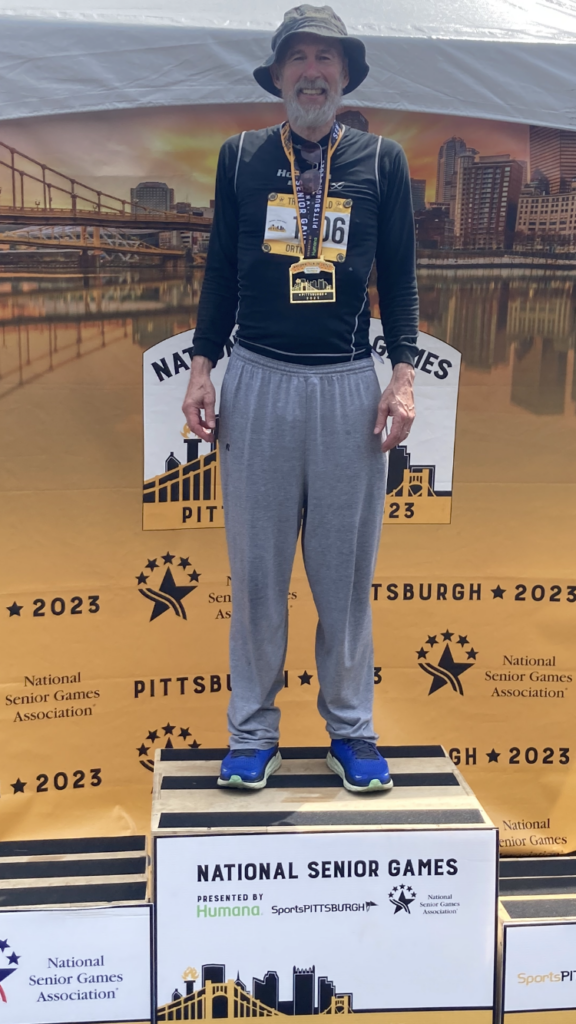 Ortman won the gold medal in the Pentathlon here Thursday at the USATF Masters Outdoor Championships with a score of 3,301. He has won a medal, indoor or outdoor, in the Pentathlon since he was in the 40-44 age cohort.
Ortman is currently ranked No. 1 in the U.S. in the high jump (M70) and No. 1 in the world in the pentathlon, though the Europeans are just getting started with their outdoor season, he says.
Ortman was part of a world-record mile relay team in 2019 in M65 (4:01.03).
In individual events, M-35-70, he has one at least one gold medal, other than the Pentathlon, from the 400 Hurdles to High Jump.

Under the layers of clothes to keep the sun off are the bronco-rider's calves that power the man. He is reedy, but not thin. There is an athlete in there, no doubt, the hard-boiled type who grew up going to school (1 through 8) in a one-room school house in the middle of a cornfield.

He grew up in the farm country of South Dakota, so Ortman knows all about getting up to work. The day after locking up the Pentathlon gold he got to the North Carolina AT&T stadium track at 7:30 a.m. and finished fourth in the Triple Jump.

This was after competing at the National Senior Games in Pittsburgh a week earlier when Ortman won the M70 High Jump (1.40m), placed second in the 50 meters (7.46), second in the M70 4x100m Relay, fourth in the Long Jump (4.30m), and fifth in the 400m (64.27).

Being around those South Dakota farmers, Dave knows how to make hay. The cliché "making hay" in Masters athletics is understanding that the best chance to win gold is to enter USATF meets on the lower edge of the age cohort and defeat the older athletes. Yeah, but press him on that strategy and he holds up a finger to stop you. "I've won when I've been in the middle of the age range, too," he says.

He has won while older in the cohort and you bet he is a competitive. He's been competitive a long time.

In 1971, his senior year in high school, Ortman won the Class B 120-yard High Hurdles, and was third in the 180-Yard Low Hurdles and 440-yard dash to help Freeman Academy, a Mennonite school, to a third place state finish with 25 points.

He is proud of his achievement in high school, but if you are looking for bluster from Ortman ask about his law work. That's a different story. He doesn't go by Dave there. He is goes by "David E. Ortman", as in David fighting Goliaths.

David E. got a law degree without going to law school (but passed a bar exam), which is perfectly legal in the state of Washington. He took on the polluters, mostly around water issues. Dave went to U.S. Congress to school politicians on the hazards they were allowing corporations to get away with. A new administration would show up and he would have to school them, too. In all, Ortman has counseled eight administrations on their not paying attention to water safety.
Then he started representing municipalities in western Washington who had no idea what their legal responsibilities were to citizens with regard to land use issues. which included water or wetlands.

In the middle of this, he had a heart attack. "Me!" he says indignantly. "I'm in better shape than most people."
Of course, we all know by now, you can't outrun bad genes and Dave understands that.
His uncle was an athlete and his father could run, too. What his father could really do was sell. Delmar Ortman was an insurance salesman and farmer, and that is where Dave gets his ebullient personality.
Ortman has an appetite to match the personality, that is, an appetite for achievement and keeping his wheels rolling. He wants to set a world record at 105.
"I want to keep going as long as I can," Ortman said. Let that be his epitaph.