originally published by Lancaster Mennonite School
It is our great joy to announce that Seth Buckwalter has accepted the offer to become our new Middle School Principal for Lancaster Mennonite School. His official first day in the role is August 14, 2023.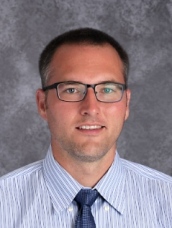 Mr. Buckwalter most recently served as High School Biology and Anatomy & Physiology teacher and as the Head Varsity Boys Basketball Coach. This past school year, Mr. Buckwalter was also a vital part of helping to lead the High School Administrative Team. He provided administrative support to both the high school counseling and principal's office while providing holistic academic and social emotional services to both students and teachers.
He is 1997 graduate of Lancaster Mennonite School, has his B.A. in Education/Biology from Bloomsburg University, and his M.Ed. in Education from Eastern Mennonite University. Mr. Buckwalter attends LCBC-Lancaster City with his wife and three kids. In his free time he enjoys spending time with his family, fishing, hiking, and all things sports.
For over 21 years, Mr. Buckwalter has invested in LM's students, community, and mission. We are thrilled to have him join the Administrative Team and lead the Middle School students and faculty with his love for God, strong experience as a teacher and coach at LM, and his administrative gifts which have been a blessing to us this past year. He is a dependable leader with a calm, steady demeanor that will create increased stability and growth for our Middle School program. He will continue to teach part-time in the High School in addition to serving as the Middle School Principal.
Mr. Buckwalter shares, "I have loved my years of teaching and coaching at LM. The students and faculty here are top notch and have been the reason that I have loved working here. God has always given me a heart for the types of Christ-centered mentoring relationships that can be formed through teaching and coaching. I look forward to being able to continue to develop those types of mentoring relationships from a different position, as a principal. I'm also excited to work with Dr. Badriaki and the Administrative Team as the school continues the work of unification. God is at work here at LM and it is exciting to be a part of."
Please join us in congratulating Mr. Buckwalter and warmly welcoming him into this new position.