originally written and photographed by Cheryl Allen, published by The News
They live a world apart, but for one afternoon, beekeeping brought them together.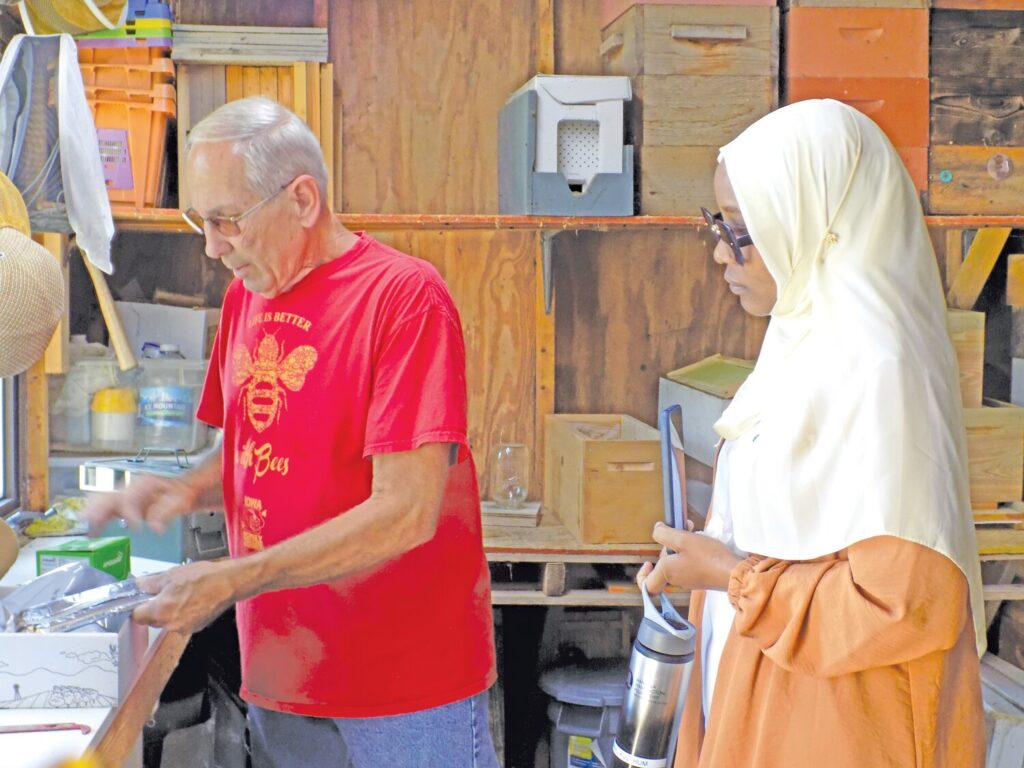 They live more than 9000 miles apart, she on an archipelago of volcanic islands, he on a landlocked plot of land that was once tallgrass prairie.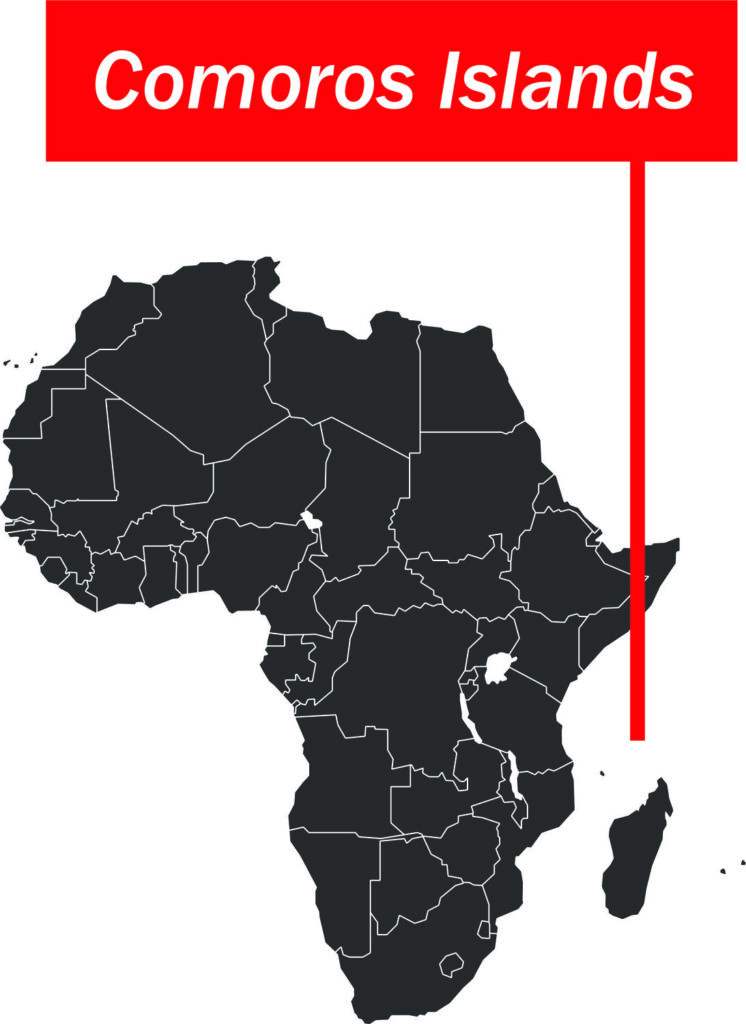 She worries about the rainy season; he worries about the frigid winter. Her business pours candles scented with local ylang ylang; his business bottles beautiful golden honey.
They have one thing in common: a passion for beekeeping. On July 9, it brought them together.
Oummu Kulthum Mohamed Ali, 27, journeyed from her home in the Coromos Islands (located off the southeastern coast of Africa, northwest of Madagascar) to the U.S. a few weeks ago on a Mandela Washington Fellowship for Young African Leaders. As a fellow, she is participating in a six-week leadership institute at the University of Iowa where she has chosen to study business.
Global Ties Iowa supports citizen diplomacy initiatives in Eastern Iowa; members connect with Mandela fellows every year, share meals with them in their homes, and take them places they are interested in.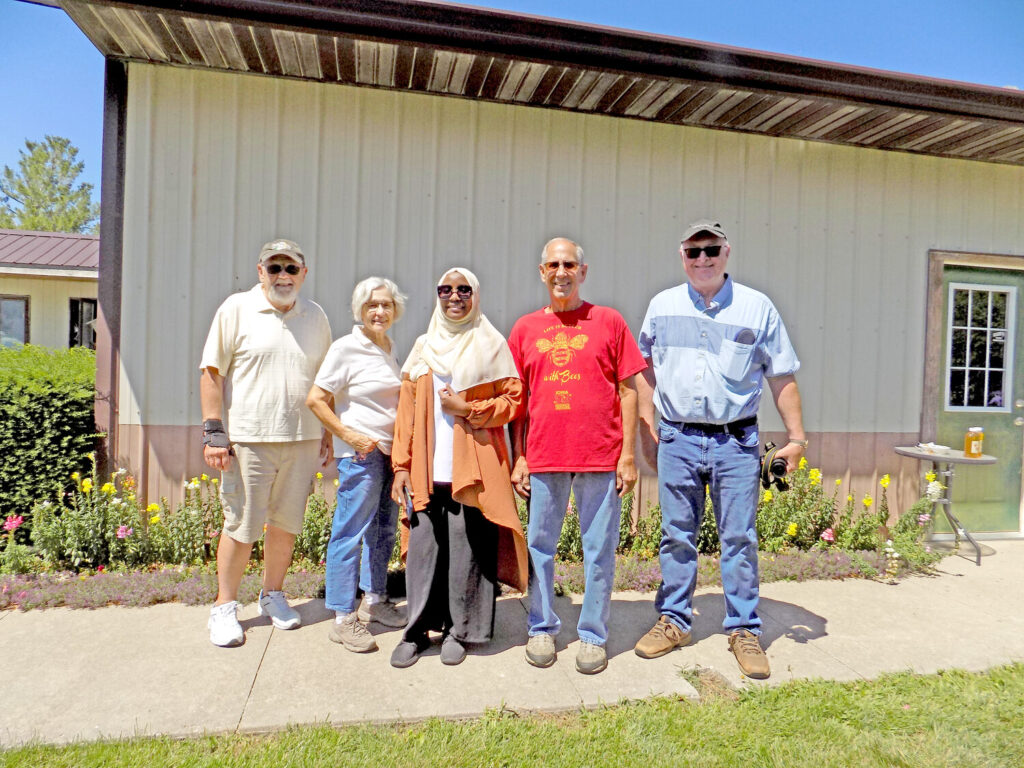 When Don Kirchner found out Oummu was from the Coromos Islands at a Global Ties get-together, he knew he wanted to connect with her; few people have heard of the Coromos Islands, but he had spoken to people there on his ham radio in the past.
"She explained to me that she was here for a program about bees," Kirchner said, "So I made sure that she was one of the ones that came over to our house for dinner."
Oummu co-founded a business, Island Organic Bee, that produces honey and beeswax candles. She was especially interested in learning how American beekeepers raise colonies and harvest honey. Kirchner knew exactly who she needed to meet: James Miller [Hillcrest Academy, '72], often known simply as "the honey guy."
On Sunday afternoon, Kirchner and Oummu drove to Miller's home and apiary in Wellman, where they were joined by Jim and Kathy Davis, fellow members of the East Central Iowa Beekeepers Association.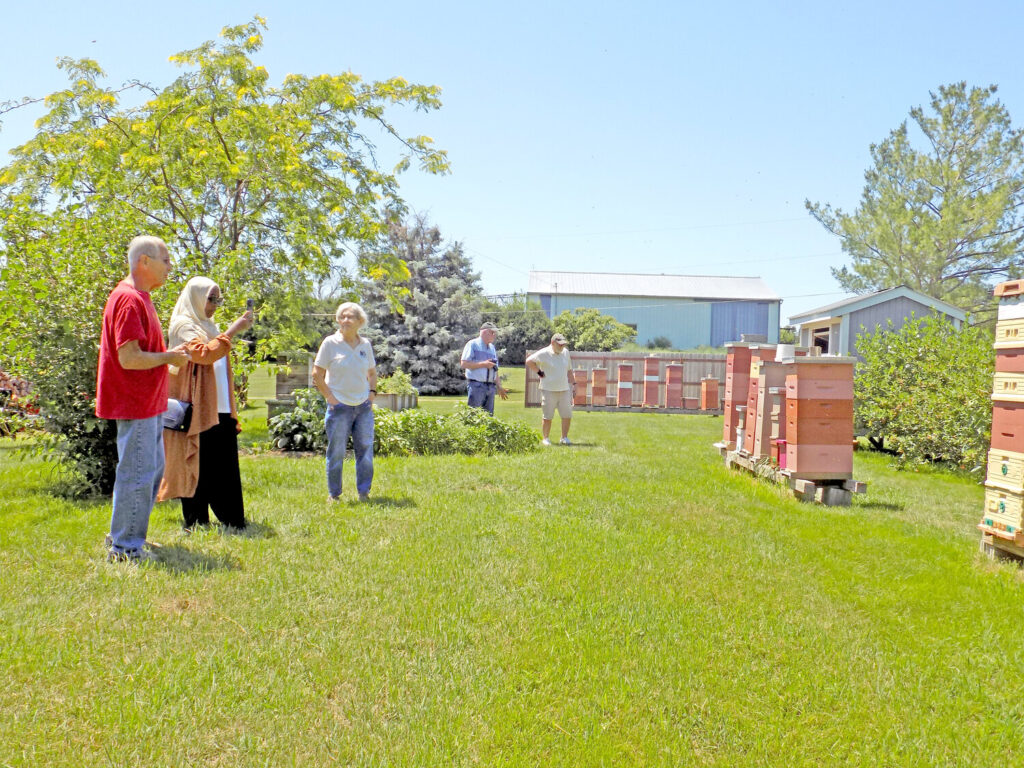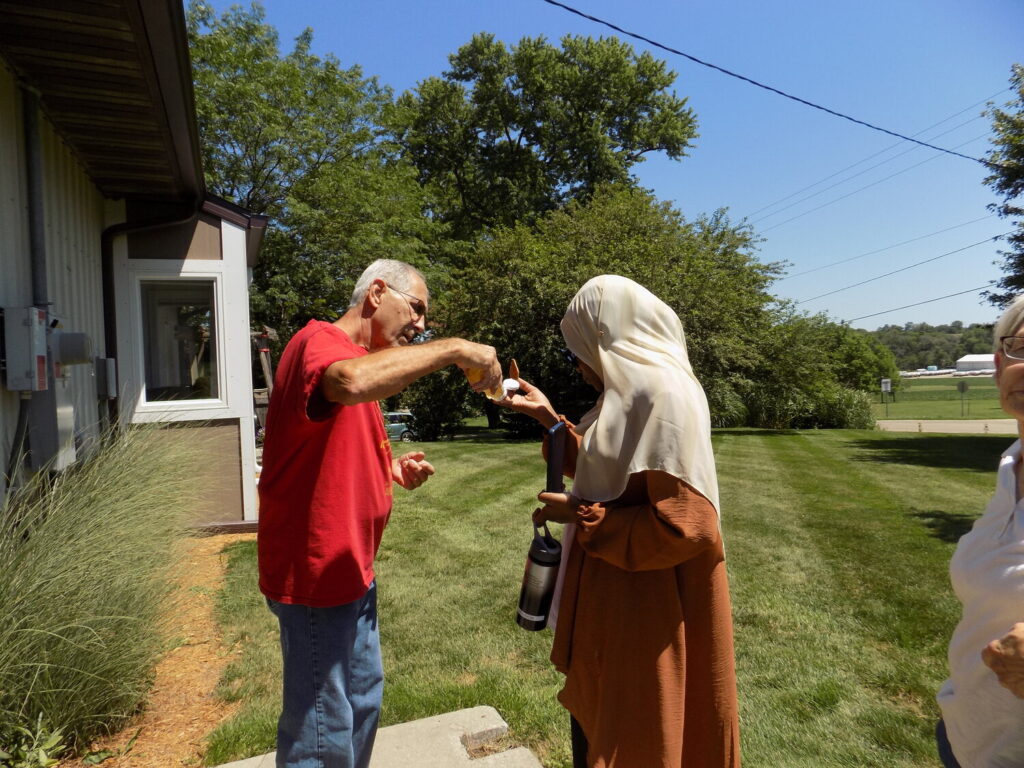 Oummu and Miller had instant rapport as Miller showed her his towers of beehives. As they walked through the property, Miller talked about what he does and asked Oummu about her beekeeping.
After explaining that he raises subspecies of European honeybees, mostly mixed breeds as they best survive winters, he acknowledged, "You probably don't have a hard winter where you live, right?"
"We just have a rainy season," she affirmed. "Sometimes it's hard," she said, noting that bees struggle to survive when days of unrelenting rain wash nectar from flowers and prevent the bees from flying.
Raising bees in different climates was just the beginning of the differences Oummu and Miller discovered as they chatted, bees buzzing harmlessly around them all the while.
He treats for Varroa mites, a problem all beekeepers face; she does not, hoping to develop more resistant genetics instead. His honey production period is primarily June, July and August; in her tropical maritime climate, her bees produce most of the year. He's experimenting with infusing his honey with hot peppers; flavoring honey is not permitted in her country.
He sells his honey at farmers markets in Washington and Muscatine; she sells her honey syrup and scented beeswax candles at the pharmacy. For American beekeepers, investing in starter bee colonies and boxes costs hundreds of dollars; in the Coromos Islands, Oummu gets bees for nothing, as they are raised traditionally in the forest.
"How many kilos of honey [do you produce]?" Oummu asked.
In exactly one minute, she had her answer, which required a quick phone conversion: 227 kilos so far this year.
"Oh!" she exclaimed, impressed.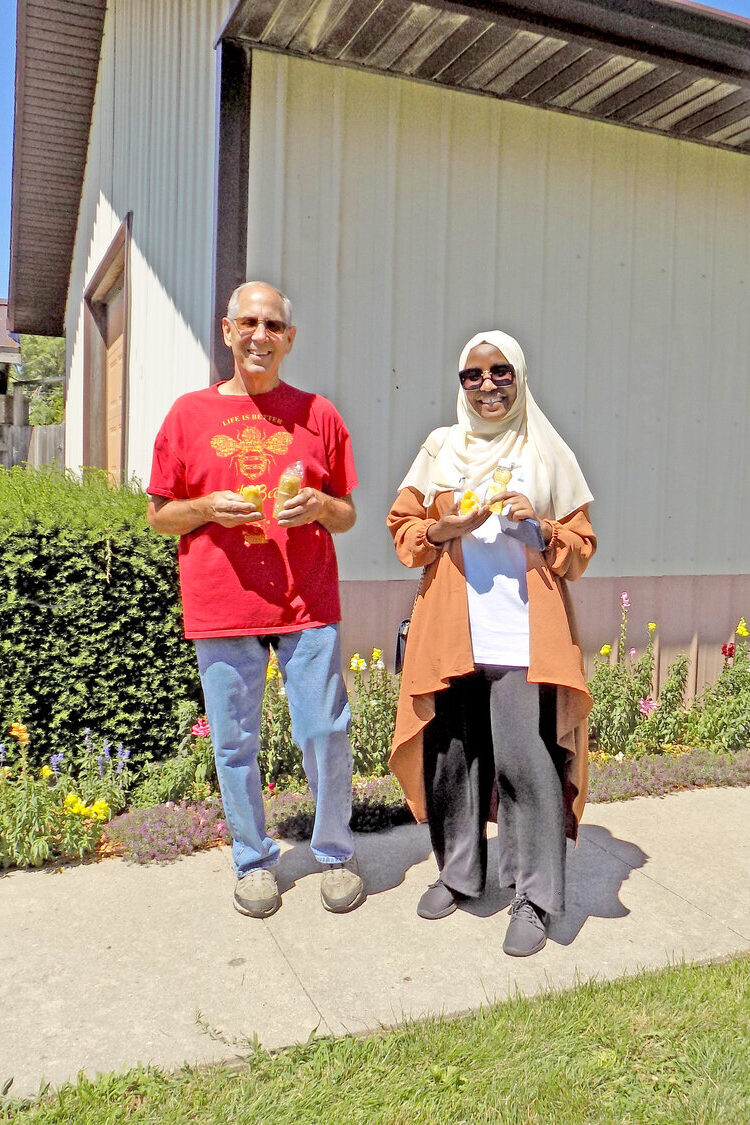 Those 500 pounds of honey are only a fraction of what Miller's bees will produce this season; he's on course to at least triple that output. Demand for his raw local honey is so high that he'll be sold out of it by Christmas.
At the end of the apiary tour, while the group stood happily munching the thin and chewy honey-sorghum cookies Kathy made, Oummu said, "I don't know if I can ask this, but of most of the beekeepers here that I see, there's no younger people."
The older folks laughed. "You're right, most of the hobby beekeepers are older," Miller admitted.
He went on to explain that efforts are being made to interest young people in beekeeping, but "They find out it's a lot of work." He himself would like to help start a club apiary of a few colonies, perhaps at the Johnson County Historic Poor Farm, where several different beekeepers could share their strategies with newer beekeepers.
Oummu's own goals are for her business to expand production and export honey. She says a lot of the honey in her country is imported, and some of it is "not real honey."
"The customer says they want pure honey, organic honey," she said, and she wants to provide that. A challenge she faces is that she is not a full-time beekeeper; she holds a master's degree in biology and teaches at a university as well.
By the end of her visit, Oummu had gained some insight from Miller, most critically about an organic treatment she could use for mites, and how she could create queens from the most resistant strains in order to refine the genetics of her colonies.
"I learned a lot," she said. "I wanted to see how beekeepers here work with the hives, how they deal with disease, and also how they harvest the honey. I had a couple of questions, and they were answered," she said, smiling.
As for the honey guy, is this a common occurrence, that beekeepers from around the world would seek out his expertise?
"No, this is a first for me," Miller said, laughing. "I'm so happy."