by Suzette Wenger, originally published by LNP|LancasterOnline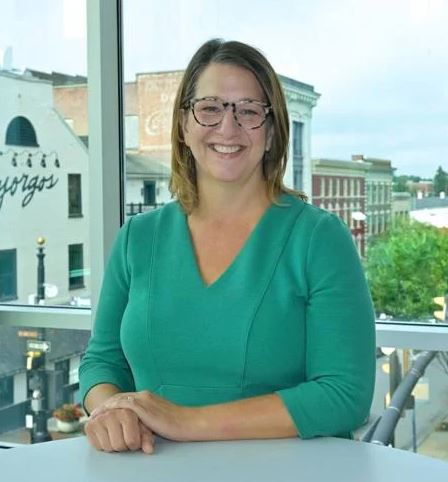 Jess King [Eastern Mennonite University '96] will leave her post as Lancaster Mayor Danene Sorace's top aide in August to become the first executive director of The Steinman Institute for Civic Engagement.
King, who served as Lancaster chief of staff for four years, said she is excited to improve civic education and engagement throughout the region with the position. The Steinman Institute is a nonprofit created after WITF acquired LNP | LancasterOnline to support local journalism and community engagement. The institute will be overseen by WITF and is funded by a donation from The Steinman Foundation.
King said she's already developed a one-year plan with 90-day goals as she prepares for the work ahead. "This work to combat division among us, the first thing we can do is listen and have conversations about how people are feeling, about the state of the community, about the state of our country and the way organizations like LNP and WITF" can contribute, she said.
King's last day as chief of staff is Aug. 29 and she will start with the institute on Sept. 1.
The city doesn't plan to hire a new chief of staff for the foreseeable future, Sorace said, as the city faces a budget deficit in 2024 and departments are asked to consider staffing decisions. The mayor said King has been "instrumental" to the city's success and led a team that will take on new responsibilities as she leaves.
"No doubt, her departure will be felt. At the same time, I am thrilled for her to take on this new opportunity as the founding executive director of The Steinman Institute for Civic Engagement. Her work to build strong communities will now extend far beyond the City of Lancaster, and I'm excited to see her bring the vision of the institute to fruition," Sorace said in a statement.
WITF President CEO Ron Hetrick said King stood out among a number of applicants for the position with her array of community-oriented experience. Her work will be geared toward connecting directly with leaders throughout the region.
"(King) will help WITF and LNP engage more directly with people across the entire Lancaster county region to better understand how we can be of service, to help facilitate community conversations and help us think about how we can do projects like deliberative forums to listen to the community," Hetrick said.
Bob Krasne, founding chair of the board of managers of The Steinman Institute, shared Hetrick's sentiments on King's ability to guide WITF and LNP in community-oriented work.
"Jess brings to this nascent endeavor the organizational skills, intellectual curiosity, and understanding of community that will set The Steinman Institute on course to address the challenges facing community journalism and promote civic engagement," Krasne said in a statement. "The WITF/LNP combination will be enhanced by the efforts she will ignite through her leadership of The Institute."
Before serving as chief of staff, King ran in 2018 against U.S. Rep. Lloyd Smucker to represent Lancaster County's 11th Congressional District. She lost, winning 41% of the vote, in what was otherwise a big year for Pennsylvania Democrats, who flipped three U.S. House seats across the state.
King has previous experience in the nonprofit world as executive director for ASSETS, a nonprofit economic development organization. She has completed coursework in nonprofit management and fundraising at the University of Pittsburgh's Graduate School of Public and International Affairs. She is a board member for nonprofit Lancaster City Alliance. Her 2018 campaign for Congress was endorsed by the progressive group Lancaster Stands Up.