by Trevor Daugherty, Northern Indiana Clay Alliance, originally published by Goshen News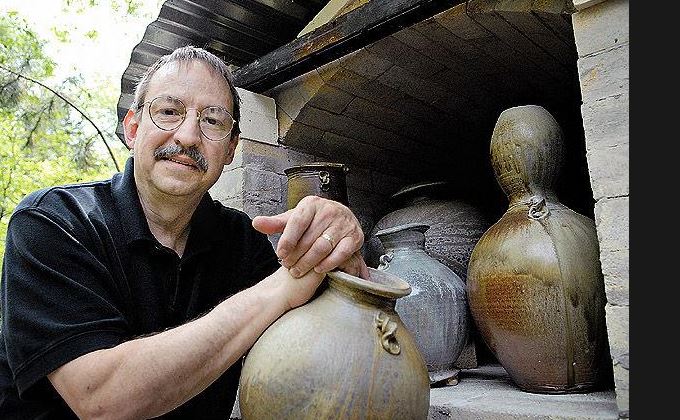 GOSHEN — Traditional Arts Indiana has awarded ceramic artist Dick Lehman the Indiana Heritage Fellowship for 2023, celebrating a 40+ year career as a cornerstone of Michiana's robust clay community.
This annual award recognizes a traditional artist who has made outstanding contributions to their artistic tradition and community. Lehman is the first ceramic artist to be awarded the Heritage Fellowship.
A graduate of Elkhart High School in 1971 and Goshen College in 1976, Lehman is an internationally-known artist from Goshen. After dabbling in ceramics throughout college and following a stint in seminary, Lehman began pursuing a life in clay in the early 1980s.
His first studio was on Second Street in Goshen before moving to the iconic Old Bag Factory in 1984, where he mentored and employed many well-known artists over the years. Lehman is well-regarded internationally for his writings, wood-firing practices, and travels to Japan throughout the 1980s and 90s.
He is a co-founder of the Michiana Pottery Tour, dubbed a Michiana Master by the Midwest Museum of American Art in 2021, and his work was presented to cultural and religious leaders of Iraq and Iran as part of a 2007 peace delegation.
The Northern Indiana Clay Alliance will host Traditional Arts Indiana June 24 at Goshen Theater, where Dick Lehman will be recognized as a recipient of the 2023 Indiana Heritage Fellowship.
Learn more about the Indiana Heritage Fellowship at traditionalarts.indiana.edu.