by Tricia Masenthin, originally published by The Lawrence Times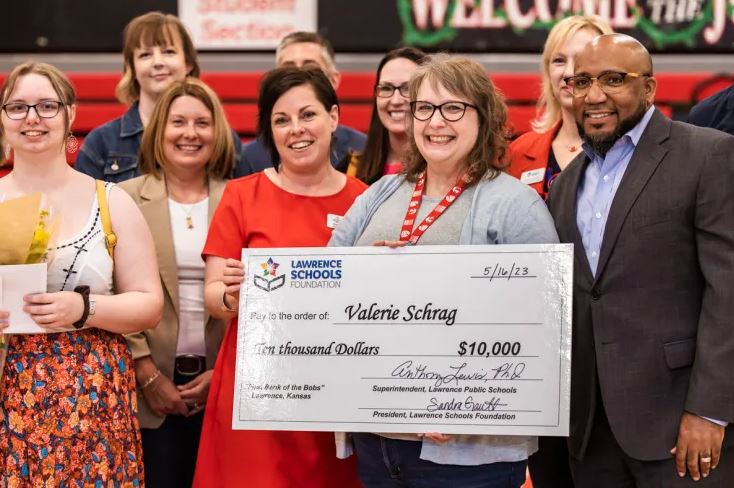 The payout was huge, and it matched the praise heaped on social studies teacher Valerie Schrag as she received the Lawrence Schools Foundation's 2023 Excellence in Teaching Award.
Superintendent Anthony Lewis announced the annual honor, also known as the Bobs Award, on Tuesday afternoon in a surprise ceremony at Lawrence High School. Schrag appeared incredulous as she crept across the main gym for the presentation.
Lewis referred to district staff as talented "jewels and diamonds" during his introduction of Schrag and read a few of the testimonials the nomination team received on her behalf.
"Valerie is not only a master of her content but also an expert humanitarian," a peer wrote. "When it comes to content knowledge, she is unmatched and yet the greatest lesson she has taught me is how to care for other people. She teaches through her actions and thoughts. She approaches every student with deep respect and compassion. She wears her heart on her sleeve and is willing to share it with her students bravely."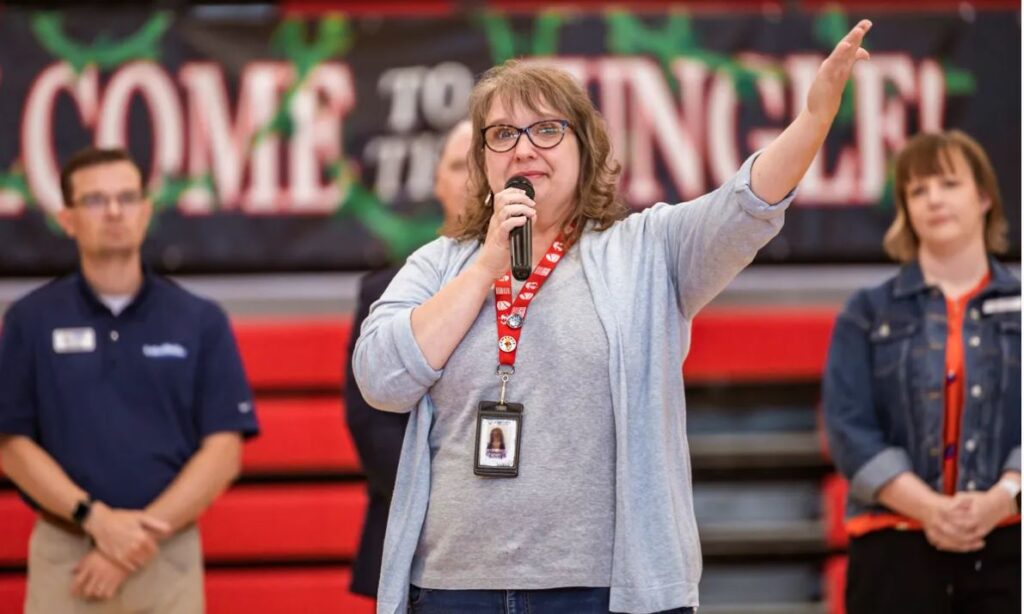 Now wrapping up her 22nd year at LHS, Schrag teaches Advanced Placement U.S. history, African-American history and two Jayhawk Blueprint U.S. history courses. She also serves as coordinator of the Link Crew, the student-peer program that helps incoming first-year students acclimate to high school.
Schrag thanked her students and colleagues in her acceptance speech. She cited them as the reason she's been a Chesty Lion for 22 years.
"And I've never thought, even in the midst of everything, about going anywhere else," Schrag told the crowd. "It's because of the people who make this building and this place what it is."
She called teaching "one of the hardest jobs in the world," but also the best.
"If you do it right, it breaks your heart, and it makes your heart sing," Schrag said. "And it makes you smile and it means you keep up with graduates for years and years and years."
There to cheer on Schrag were family members, students, friends, colleagues, and board members of Lawrence Public Schools and the foundation.
Schrag blew kisses to the crowd as she wrapped up her speech. Seniors Alivia Johnson and Alyssa Alden headed over to hug their teacher. Later, they spoke about the qualities that drew them to Schrag.

"I've cried into her arms so many times. I love her so much," Johnson said. "She's the most motherly, influential person I've ever met."
Alden said Schrag "will stop everything she's doing just to make sure that you're OK."
"We call her 'Mama Schrag' because she takes us in under her wing," she said.
Junior Landon Albaugh said Schrag knows how to make learning fun yet provide structure at the same time.
"She runs the class really well," he said. "I really like that, since some high school classes can be a little chaotic. But I really love how she handles the classroom and how she teaches us all of these things I've never heard about before."
A former student wrote about Schrag's impact on her own goals and career path.
"She has remained a constant supporter of mine and my family throughout the years," Lewis read from the testimonial. "She never let me quit on myself. That is a lesson that transcends from the classroom. I am forever grateful for her as my teacher, my mentor and my friend."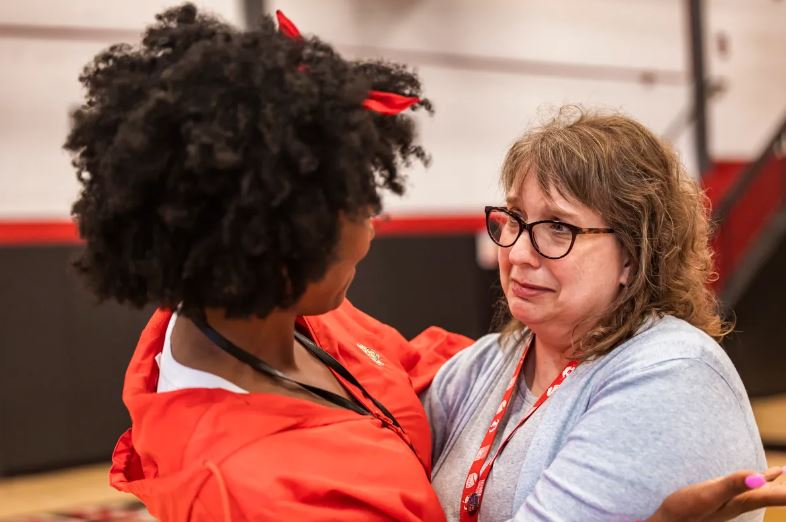 Schrag described education as "really challenging" across the country during this era. Teaching during the beginning of the COVID-19 pandemic confirmed how crucial face-to-face communication plays into Schrag's teaching style. She called that remote learning the most difficult part of her 25-year teaching career.
"Teachers teach because they love their students," Schrag said. "They love their communities. They love being part of the future. I have never once ever been afraid for the future of this country because I've seen who's coming up. And we're in really, really great hands. That's a privileged position to have — to be able to see what's coming next in my classroom."
Schrag said she viewed the $10,000 prize (after taxes) as "a really big thank-you," but lauded a note from a student as "every bit as important."
She urged community members to remember to show their gratitude to past, present and future educators in their lives.
"All teachers deserve thank-yous in whatever way they come," Schrag said.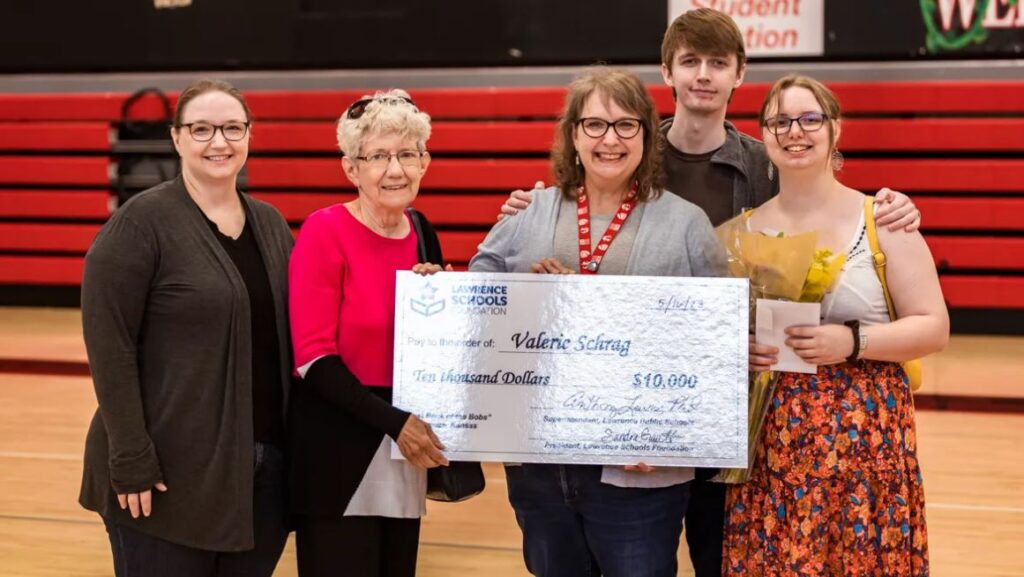 Three generations were on hand to support Schrag. Her mother, sister, niece and nephew traveled from the Newton and Wichita areas to watch their loved one receive her flowers.
Rachel Schrag Sommerfeld, Schrag's sister, called it "a great honor" to witness the love colleagues and students have for her older sister.
"I'm very proud of her," Schrag Sommerfeld said. "She loves her students. She loves her job so much. It's not a job. It's not a career. It's a service for her. And it's really very close to her heart. And she cares about everyone so deeply."
Judy Schrag, Schrag's mother, described watching her daughter receive the award as "overwhelming and amazing." The elder Schrag, now retired, taught students with disabilities during her teaching career in Ohio and Newton, Kansas.
Schrag's nephew, Owen Sommerfeld, and niece, Lauryn Sommerfeld, both of Wichita, proudly shared their aunt's influence on them.
Owen, 24, said he enjoyed "hearing bits and bombs" about history from his Aunt Valerie that he might not have heard until much later in school.
Lauryn, 19, called her aunt "one of the most dedicated people" she's ever known.
"I'm an art education major right now, and it's moments like this where I'm like, 'I know I want to be someone's Valerie,'" Lauryn said.
A group of Lawrence business leaders and educators — all named Bob — launched the award in 1997 to annually honor a teacher "who has a special gift for teaching and turning kids on to learning," according to the foundation's website. "The recipients of this award all have one thing in common – their classrooms are fun, they inspire creativity, and learning is infectious."
The nomination form states nominees may be submitted by anyone, including students, staff, peers, alumni and community members; however, teachers may not nominate themselves. The $10,000 award is fully donated by the original Bobs and their sons and daughters and does not include public funds. Nominations for the 2023 award were due April 30, according to application guidelines.
Here's a list of previous recipients of the Excellence in Teaching Award:
1997 – Val Howland (Broken Arrow Elementary School)
1998 – Gary Webber (Southwest Junior High School)
1999 – Sue Siegfried (Woodlawn Elementary School)
2000 – Dr. Victoria Beals (South Junior High School)
2001 – Pamela Bushouse (Free State High School)
2002 – Brian "Chip" Anderson (Lawrence High School)
2003 – Kathy Rathbun (Langston Hughes Elementary School)
2004 – Paula Barr (Hillcrest Elementary School)
2005 – Kathleen Wagner (West Junior High School)
2006 – Mary Chapman (Free State High School)
2007 – Sherry Vratil (Wakarusa Valley School)
2008 – Deb Engstrom (Lawrence High School)
2009 – Paulette Breithaupt (Sunset Hill Elementary School)
2010 – Christy Kelly (Cordley Elementary School)
2011 – Renee Babin (Schwegler Elementary School)
2012 – Michael Carriger (Lawrence High School)
2013 – Ryan McAdoo (Hillcrest Elementary School)
2014 – Jordan Rose (Free State High School)
2015 – Mike Jones and Rachel Dirks (Lawrence High School)
2016 – Scott Forkenbrock (Liberty Memorial Central Middle School)
2017 – Stu Strecker (Free State High School)
2018 – Michele Duncan (Sunset Hill Elementary School)
2019 – Susan Lomshek (Schwegler Elementary School)
2020 – Kaitlin Shulman (Quail Run Elementary School)
2021 – Susan Mička, (Lawrence High School)
2022 – Sam Rabiola (Free State High School)