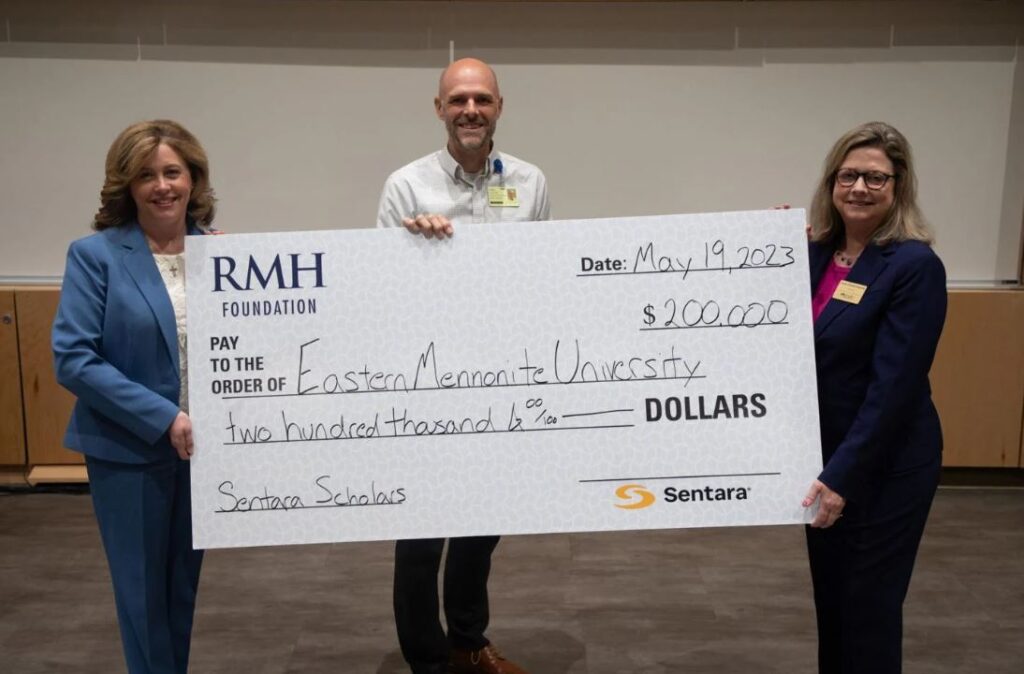 originally published by the Daily News-Record
On Friday, representatives from a major health system presented $200,000 in scholarship funds to representatives of Eastern Mennonite University.
James Madison University and Eastern Mennonite University are each receiving checks for $200,000 this month, to award to students pursuing degrees in healthcare disciplines, according to a press release.
The money comes from Sentara Scholars, a $3-million fund and program of the Sentara Health system that provides money for students pursuing degrees in the healthcare field, to encourage more people to pursue careers in health, a press release from Sentara Health said. 
"Nursing has been one of our top majors at EMU for a long, long time and continues to be," said Dr. Susan Schultz-Huxman, EMU president, in a press release. "We are preparing students for the workforce, for community involvement; and we can't really do that without community partners."
JMU boasts a well-known nursing program and its health sciences degree also topped the list of most popular majors among graduates this year.
The check presentation for JMU will take place May 26 at 11 a.m., in the Leeolou Alumni Center great room, on the university's campus, the press release said.
President Jonathan Alger and Sharon Lowell, dean of the College of Health and Behavioral Studies, will receive the check, the release said.
Scholarships will be awarded based on a combination of merit and need-based criteria, the release said.
At EMU, the funds will be awarded to seven students pursuing advanced degrees in health, said Melody Cash, nursing department chair for the university, in a press release.
"The future of our community health is tied to the future of our healthcare providers," said Cory Davies, executive director of the RMH Foundation, Sentara RMH's nonprofit arm, in a press release. "[Ensuring] that those healthcare providers get a good education [is] grounded in the values that Sentara also holds."