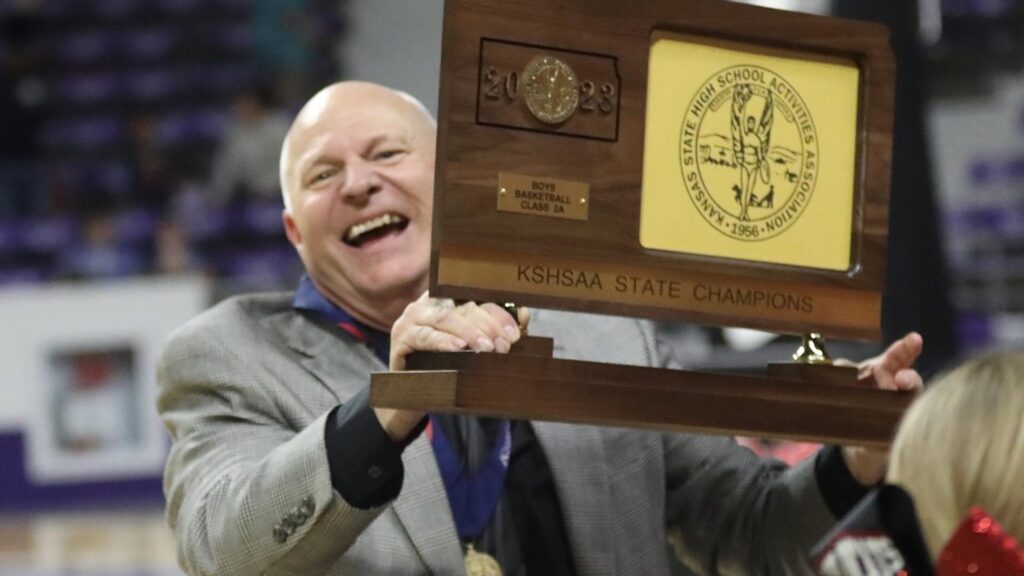 originally written by Brent Maycock and published by KSHSAA Covered. Vance Unrau graduated from Bethel College in 1981 and has coached boys basketball at Moundridge High School, McPherson, Kan., for 36 years. 
MANHATTAN – Vance Unrau had a real dilemma on his hands in late February.
Having already announced he was retiring as a teacher and athletic director at Moundridge effective at the end of the school year, the longtime coach hadn't told his boys basketball team that this year – his 36th as Wildcats head coach – would be his last.
Quite frankly, Unrau didn't want it to become a distraction, or undue burden, for a team he knew was capable of bringing home Moundridge's first state title in more than two decades. 
"I didn't want them to like they had to go do something for me," Unrau said. "I wanted this season to be about them, not me."
But with the school district needing to post his jobs – all of them – Unrau had to break the news right as the push for the postseason was in earnest.
His Wildcats' reaction?
"Our kids kind of said, 'OK, what's the big deal?'" Unrau said. "We're going to play like we normally do."
Not only did Unrau's news not phase the Wildcats, it strengthened their resolve to send him out on top. That resolve played out in a big way in the second half of Saturday's Class 2A state championship game against Wichita Independent.
Down four late in the third quarter, Moundridge finished the third quarter on an 8-0 and completely overwhelmed the Panthers in the fourth quarter to win going away, 66-46. 
Moundridge won its first state title since 1997 and sent retiring coach Vance Unrau out on top.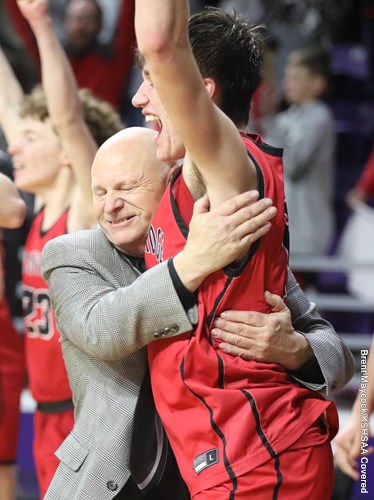 The title was the sixth for Moundridge, all coming under Unrau, who led the Wildcats to four straight titles from 1990-93 and another in 1997.
"It's just huge for Coach Unrau; he's the best," Wildcat senior Logan Churchill said. "I'm just glad we could send him out with a state title. … Once March hit, everything was for him. As much as we wanted to win, he did too and we wanted it for him. We knew we had to make him proud."
The Wildcats were quite honestly making Unrau's blood boil a bit in the first half. Independent had been one of only three teams to beat Moundridge during the regular season, taking a 53-47 win right before Christmas break, and started off looking like a season sweep was in order.
Javon Beadles opened the game with back-to-back 3-pointers for the Panthers, who used an 8-2 run at the start of the second quarter to erase an 11-9 deficit at the end of the first period and lead 23-18 at halftime.
Moundridge shot just 33% in the opening half, committed 5 turnovers and sent Independent to the line eight times while also allowing the Panthers to go 3 of 5 from 3-point range.
"My halftime speech was, 'Are you going to let them dictate not only the tempo of the game, but what happens on the offensive end of the floor AND the defensive end of the floor? You're just going to let them take it from you?'" Unrau said. "So I scolded them, as much of a scolding as I've given them. It was more about, 'Be us. Go out there and be us.'"
Moundridge took the message to heart with Churchill and fellow senior Landon Kaufman leading the charge.
Landon Kaufman scored 23 points to lead Moundridge to a come-from-behind 66-46 win over Wichita Independent.
Kaufman put the Wildcats on his back in the third quarter, hitting one big 3-pointer after another – three total in the quarter – to answer a trio of 3-pointers the Panthers got from Isaac Combs (two) and Joseph Recalde-Phillips. The senior point guard scored 13 of his game-high 23 points in the quarter.
"I knew my defender had three or four fouls so he wasn't going to play up on me," said Kaufman, who also finished with six assists. "I took my chances and shot some open ones and thankfully they hit and got us on a little roll there."
Churchill mixed in a 3-pointer of his own, scoring 7 in the quarter. Henry Hecox – whose game-winner at the buzzer in the semifinals put Moundridge in the title game – converted a big and-one that started the 8-0 run to finish the quarter with Barrett Moddelmog ending it with a 3-pointer that gave the Wildcats a 44-40 lead going into the final period.
After Independent's Connor Harris scored to start the fourth, Moundridge delivered the knockout blow. Churchill hit a pair of 3-pointers and scored 8 in a 14-2 run that sent the Wildcats on their way.
"The second half we just came out and knew the game wasn't over," said Churchill, who finished with 19 points. "We just had to get stops and come out and score and that's exactly what we did. We made a couple runs and our crowd helped out a bunch. It was super-energetic and crazy in here and that really helped us.
"We had to do it on both sides of the ball if we were going to win this game. Credit to Independent because they're a great team both offensively and defensively. It was a tough game the whole time."
Enjoying the best season in program history, Independent's late collapse stung. After taking a 40-36 lead with 2:02 left in the third quarter on a Recalde-Phillips layup, the Panthers made just 1 of their final 13 shots and turned it over five times.
Harris scored 16 to lead the Panthers, who finished 23-3 and with their best state finish in the program's brief history.
"They worked hard to get here and I wished we could have finished it for them," Independent coach Tyler Keim said. "We just came up short and Moundridge is a great team and has a hell of a senior class. That's a good basketball team so we just have to figure it out for next year and see if we can get back here again."
For four of the Wildcats, the state championship took on even more meaning with parents and relatives who also won state championships for the school under Unrau.
Kaufman's dad, Steve, was an All-Stater on Unrau's first two title teams. Churchill's uncles Brian and Jacy Holloway, were big pieces during the string of four straight titles while his mother, Tara, won championships for the girls' program. Moddelmog and reserve Lane Durst also had fathers (Courtney Moddelmog and Drue Durst) who played during that stretch.
"It means everything," Kaufman said. "For our group, it was a big deal with our dads and relatives telling us that it's the best feeling ever. And they were right. Actually, it's way better."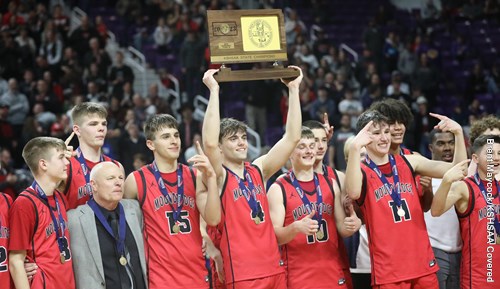 While all of his titles have a special place in his heart, Unrau was overcome with emotion in talking about Saturday's his final one. Friday's thrilling buzzer-beating semifinal win combined with his team's furious finish in the finals made for some must-see TV in his mind.
"Are you kidding me?" he said. "Last night was the 30-for-30. Tonight's Hallmark! It's Hallmark! Through all the things a guy has to go through to prepare his team, there's ups and downs … And then happily ever after."