Mennonite Higher Education Association (MHEA)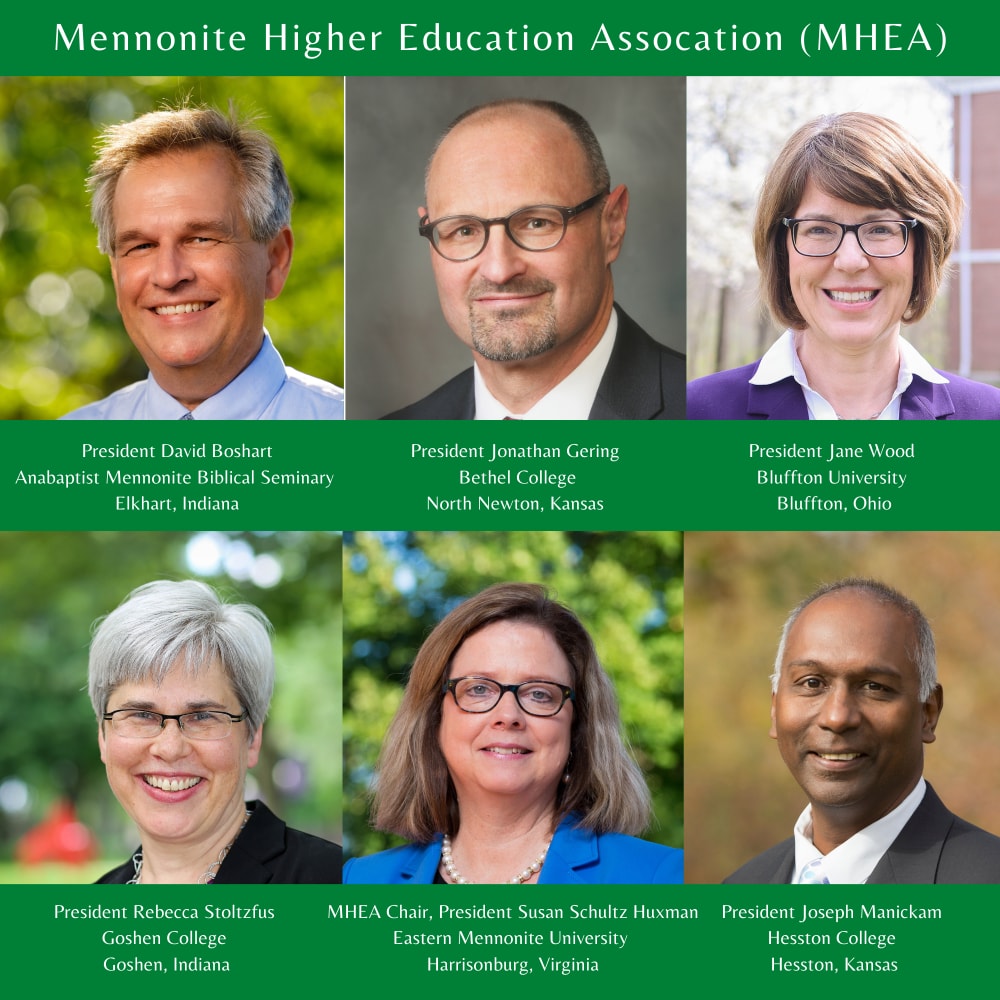 In relationship with the denomination's education agency, MEA, the Mennonite Higher Education Association is a member-driven federation of Mennonite higher education schools that desire to maintain a close and intentional relationship to the Mennonite Church USA in ways described by a Statement of Arrangements (SOA).  All current Mennonite colleges, universities and seminaries with an SOA with Mennonite Church USA/MEA are members of MHEA.
MHEA supports the missional vision of MC USA through higher education and is guided by the Confession of Faith in a Mennonite Perspective, the Shared Convictions of Mennonite World Conference and other documents of MC USA. As valuable documents for framing teaching and learning, MHEA schools commit to using them as guides for educational formation. The schools also commit to examine how well time-bound confessions and convictions express the Word of God revealed in the Scriptures, and to actively listen for what the Spirit is saying to the church today.
A series of essays by the MHEA presidents about their vision of education, originally published by The Mennonite, is available at https://anabaptistworld.org/category/opinion/mhea-opinion/.
Purpose
MHEA provides a structured setting for long-term mutual support and collaboration among Mennonite higher education schools. Within the MHEA framework, presidents meet regularly for fellowship, trust-building and collaboration, and for the sharing of goals, aspirations and challenges within a spirit of mutual support and encouragement.  MHEA carries out its activities with sensitivity to the uniqueness of the supporting constituencies of each member school.
In consultation with MEA, MHEA sets its agenda and priorities as determined by the members. It is anticipated that these will include:

working together to offer the highest academic and professional educational programs possible
developing additional collaboratively-delivered academic programs
advancing the mission and brand of Mennonite higher education to recruit larger numbers of students interested in such an education
sharing services for more efficient operation, professional enrichment, and other potential forms of collaboration to enhance educational outcomes and to keep tuition as affordable as possible
coordinating research and leadership development that serves the schools and/or church

MHEA and member schools serve the church as an incubator of research-based Anabaptist theological perspectives and leadership development.
MHEA works with MEA, Mennonite Schools Council and other educational entities to advance the total scope of Mennonite education.
MHEA works in partnership with MEA to empower each school to eliminate structural racism and other forms of discrimination.
MHEA serves as a conduit between member schools/presidents and MEA. Toward that purpose, an MEA staff person designated by MEA will be invited to attend Association meetings to provide and receive information
The schools, with statements of arrangements with Mennonite Church USA, share the church's commitment to Anabaptist values and theology. They are committed to a mutually beneficial and vital relationship with the church. They desire to maintain and grow their Anabaptist Christian identity as foundational for outstanding educational programs.
Through MEA, MC USA partners with the schools by providing program support, prayers, finances, and guidance for educational programs. The schools partner with the church to serve as missional centers by providing a Christ-centered, value-laden educational formation that shapes graduates to become leaders for God's reconciling mission in church and society, both locally and globally.
The schools work collaboratively to recruit students, provide rigorous academic programs, vocational and professional formation and job placement. They seek to be affordable, with a focus on faith formation that is informed by Anabaptist Christian values of service, social justice, witness, peacemaking, hospitality, prayer, and knowledge of the Scriptures.  As Christian faith-based learning communities, the schools make real the infinite worth and acceptances of every person. They endeavor to enact the biblical commandments to love God, self and neighbor and all of creation.
They hold together – in creative tension – scholarship and faith, knowledge and love, wise judgment and welcoming embrace.  These schools form graduates who understand that the professional expression of their vocation will require deep roots in a living faith. Engaging the world's toughest problems requires graduates to be grounded in the love of God and joyfully aligned with God's reconciling mission in the world. They understand that character, accompanied by grace and humility, is more important than intellectual brilliance or professional success.
Inspired by the Gospel's vision of the reign of God, graduates are equipped to embody Christ's love, participate in and lead vibrant congregations, and witness to their faith. Within communities of learning, oriented toward biblical visions of shalom, they are formed in practices of nonviolence and peacebuilding and are prepared to confront racism and other forms of discrimination, practice restorative justice and offer hope for the healing of brokenness and division.